International
Chile "Well-Positioned" to Recover From Earthquake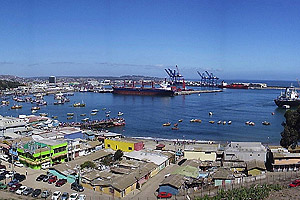 Though Chile's export revenues may drop in the short term following Saturday's severe earthquake, the country is well-positioned to recover from the natural disaster, according to International Business Professor Frank DuBois.
While the earthquake may stunt the country's economic growth in the first two quarters of the year, an upswell of activity will likely follow, linked to reconstruction efforts.

Not only is Chile the wealthiest country in South America (based on GDP per capita), but it also boasts a stable government that enforces building codes and standards; this up-to-code construction suppressed what could have been catastrophic damage after the 8.8 magnitude earthquake.
"Santiago is clearly a story of how sound building codes, strictly enforced can prevent a calamity," explained Executive-in-Residence Bob Sicina, also of the International Business department. "In terms of efficient and effective functioning, Chile is the Switzerland of Latin America."
Seven hundred people are presumed dead in Chile; in comparison, the island nation of Haiti lost an estimated 250,000 people in a lesser quake in January.
Chile's lack of widespread political corruption means that the construction standards are generally enforced. "In contrast, it's very easy in some other parts of the world to bribe the government inspector," said DuBois, remarking on Chile's spot at No. 25 on Transparency International's Corruption Perceptions Index is just six spots behind that of the United States.
DuBois noted that the devastating 2008 earthquake in China's Sichuan province killed almost 70,000 people and left millions homeless. The massive property damage that resulted from the 8.0 magnitude quake was largely due to inferior building construction; over 7,000 inadequately engineered schools collapsed. At an economic loss of about $75 billion dollars, it was one of the costliest natural disasters in Chinese history.
Rebuilding Connections
In recent years, Chile has successfully transitioned from emerging market status to that of a developed nation, thanks in part to its strong agricultural and mineral industries, which contributed to a total export of $58 billion in 2006 – much of that owing to copper exports. The state-operated copper giant CODELCO, the National Copper Corporation of Chile, is the largest copper-producing company in the world.
"Just like after New Orleans was hit by Hurricane Katrina in 2005, the immediate economic challenge for Chile will be to get the ports up to full speed again," DuBois explained.
Bridges, roadways and container cranes will need to be secured in Chilean port towns that were damaged by the earthquake, its aftershocks, and the resulting tsunamis. One such port is Talcahuano, a city of a quarter-million people that is part of the province of Concepcion. The capital of the province, also named Concepcion, is the country's second-largest city and was the epicenter of the earthquake.
Chilean citizens elected billionaire Sebastian Pinera as the country's next president; he takes office March 11 and replaces Michelle Bachelet, a popular president who is prohibited from serving a second consecutive term by the country's constitution.

Chilean Partners
Kogod's global learning programs in Chile are administered in collaboration with the Austral Group, an educational travel organization with headquarters in Santiago. Contacts at Austral reported that damage to the capital of Santiago is generally "mild," and the situation is quickly improving. "Most roads are open and public transportation is operating on a normal scale. Businesses are open and functioning," representatives wrote in an e-mail. "There is a general feeling of calm and cooperation amongst the population in Santiago."
Santiago is 200 miles north of the epicenter site of Concepcion.
DuBois is chair of the International Business Department at the Kogod School of Business; he also serves as director of the Kogod Global Management Institute, an intensive emerging markets program that is enrolling its inaugural class for May 2010.