Student Life
Career, Cultural Exploration on Road Scholars Trip to Dallas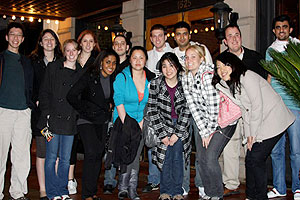 For most college students, spring break is spent catching up on sleep or relaxing on a beach. But for 15 Kogod students, it was time to experience the real world of business, explore career options, and earn class credit.
These undergraduates ventured to Dallas, TX – which has the third highest number of Fortune 500 companies in the country – for the 8th installment of Kogod's Road Scholars program.
"I was interested in knowing what each company did on the inside so that when I graduate I will have a specific interest I can look for when I apply for jobs," said Amber Conway, BSBA '10 and Road Scholars participant.
The students spent the week visiting a variety of industry leaders that reflected the array of degree concentrations at Kogod. Their site visits offered a behind-the-scenes look at businesses in fashion and merchandising, professional sports, accounting, information technology, hotel management, soft drink manufacturing, air travel, and even a family-owned barbecue chain.
"I think the diversity of companies that we visit makes the trip very beneficial for students," explained Allison Holcomb, Kogod's Director of Programming and Student Activities, who accompanied students on the trip. "They are able to see that companies really have a culture that can be unique and that you can utilize your business degree in many different ways."
A sample of site visits includes the headquarters of Mary Kay, the Dallas Cowboys, American Airlines, Texas Instruments, and the Dr. Pepper Snapple Group.
Amy Chu, BSBA '12, kept a daily diary of the trip for a project with the Center for Business Communications. After an exhausting day of back-to-back sightseeing and site visits, Chu said that the project gave her time to reflect on the trip and the places she visited.
The Dallas Market Center, a wholesale merchandise resource where vendors sell to businesses, was Chu's favorite.
"It was huge and amazing because it was a shopping mall for businesses – a business-to-business business," Chu said. "We even got to see some people negotiating."
Rob Newman, an SIS student completing a minor in International Business, agreed. "Before this I had never really thought of retail in this way. I had focused on seller to consumer… but now I got to see the 'middle man' in the process."
Timur Khalif, BSBA '10, thought the American Airlines executives he met lended great insight on the competitive nature of the airline industry: "They provided the group with a clear list of challenges and how the company plans on facing them... how American is overcoming its future obstacles."
Besides exploring different types of companies, the group was able to partake in local culture; they toured Dallas and Ft. Worth and even watched a cattle drive. The students also met with AU alumni living in the area at a networking dinner Wednesday night.
Newman talked to Drew Naukaum, BSBA '93, and Arthur Epp, BSBA '50, during the dinner. "It was very interesting to hear about what AU was like at the times they were here," he said. They also gave him some important career advice: "Shoot for the career you want. But if you don't get your dream job, do a good job at [what you do get] because it will reflect on you later," Newman said. "Drew also talked to me specifically about interviewing because he used to be involved in recruiting for his company."
To prep for the trip, each participant was assigned a different site and tasked with giving the group an overview of its purpose and history, in addition to acting as the group representative during the visit.
Following their return to AU, the travelers are researching and writing papers on how the trip has influenced their career aspirations and interests.
Previous Road Scholars trips have included San Francisco, Seattle, Atlanta, Chicago, and Los Angeles. The location is chosen through student surveys along with research of companies and alumni presence in the area.