On Campus
Honest Tea's Seth Goldman to Serve as Graduation Speaker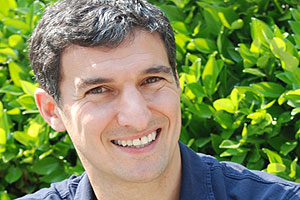 The Kogod School of Business is pleased to announce the selection of Honest Tea co-founder and TeaEO Seth Goldman as the school's commencement speaker for its May 8 ceremony.
An entrepreneur, Goldman's advocacy for sustainability, fair trade, and social responsibility align with Kogod's focus on the global business environment.
"Sustainability is a key issue for both American University and for Kogod as we prepare our students for what's to come," said Robert and Arlene Kogod Dean Richard M. Durand. "Seth is an excellent speaker who is truly at the forefront of these changes in the business world."
Goldman co-founded Honest Tea in 1998 with Professor Barry Nalebuff of the Yale School of Management. Over the next decade, the company thrived with a 66% annual compound growth rate; in 2008, The Coca-Cola Company purchased a minority interest in the company, allowing the brand to capitalize on the world's largest beverage distribution system.
Prior to the inception of Honest Tea, Seth worked at Bethesda-based Calvert Group, managing marketing and sales efforts for the nation's largest collection of socially responsible mutual funds.
"I'm honored to be sharing such an exciting moment with the graduating class of the Kogod School of Business," said Goldman. "It's exciting that Kogod and other leading business schools around the country are recognizing the importance and urgency of integrating ethics and sustainability into management education."
With Goldman at the helm, Honest Tea has initiated community-based partnerships with suppliers in India, South Africa and Argentina.  
Goldman also co-founded Bethesda Green, a local sustainability initiative, in 2008 in Honest Tea's Montgomery County, Maryland hometown. The public-private partnership has driven local recycling and helped area restaurants convert their grease waste into biodiesel.
Graduate student Jacqueline Andrieu met Goldman at a recent site visit organized by Kogod's Net Impact chapter. She was impressed by his engaging personality. 
"He was clearly very passionate about Honest Tea and seemed very happy to have our group there... his enthusiasm definitely trickled down to everyone in the organization which made the visit very memorable," said Andrieu. "We saw a short video of Honest Tea's history and he seemed as excited about the product then as he is today."
In 2009, Goldman received Net Impact's 2009 Member Achievement Award and was named Ernst & Young's 2008 Entrepreneur of the Year Award for the Mid-Atlantic region. 
He is a graduate of Harvard College (1987) and the Yale School of Management (1995) and also serves on the boards of Pennsylvania Certified Organic, Environmental Leadership Program, Happy Baby, and Net Impact.
The graduation ceremony begins at 1 p.m.; Goldman will receive an honorary doctor of laws degree.
Student speakers were also selected last week. Meera Manek will represent the graduate students; Molly Mccafferty will represent undergraduate students. 
The student speakers were chosen by a committee of seven faculty and staff members.