On Campus
March Concludes with Marketing Madness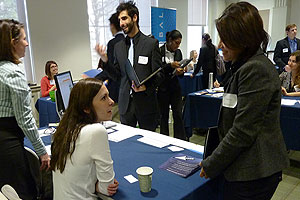 Carlo Burriesci (BLC '11) isn't looking for an internship right now – he's planning to study abroad – but he attended Marketing Day on March 31 to make connections for next spring.
His forward-thinking outlook is just what the Kogod Center for Career Development wants to impress upon students at industry-specific career fairs like the one on Wednesday.
While the majority of companies that participated are hiring, Corporate Relations Manager Annie Matanin noted, "It's important that students network and meet all employers who attend, not just the ones who are hiring. You never know when one good conversation with an employer who is not currently hiring can lead to a connection or job down the line."
Fifteen companies were in attendance on Wednesday, representing a broad spectrum of the marketing field, from advertising and public relations to digital marketing, retail and nonprofit marketing.
A sample of participating companies included RedPeg Marketing, Amtrak, the Men's Health Network, and EyeTraffic Media. Several employers were already utilizing interns from American University and looking for more.
Alumnus Seuk Kim was recruiting on behalf of employer SunStar Strategic.
"I'm proud of the fact that I can come back and display that I got a good job and you can too, especially with the problems in the economy," he said.
What qualities made a good impression on him? A professional appearance, firm handshake, and effective communication skills – like an elevator pitch, said Kim.
Rebecca Hunt and LaRhonda Lombardi were scouting for interns to represent the Washington Mystics organization.
"This is a great event," said Hunt. "The caliber of students is really good; they come prepared with questions, their resume, and research."
Lombardi noted that for interns, the most important thing is that they're willing to work hard. "They don't need to have a direct vision of what they want to do... [they just have to be willing] to enhance their skills and try something new."