Technology
Graduate Students' IT Club Celebrates a Successful First Year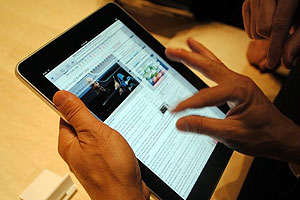 The Graduate Information Society at Kogod held its spring event by visiting Apple's technology center in Reston, Va.  Seventeen students attended along with Executive-in-Residence Nicole Melander, who was instrumental in organizing the site visit.
Students were treated to a private educational presentation by Apple executive leadership, including an overview of Apple's history, their presence in enterprise and government solutions, and insight on where the industry is headed.
The group also toured Apple's technology facility and tested popular products.  By the end of the day, they learned Apple's value proposition and the key to its long-term success: Apple emphasizes the user experience and prides itself on making technology seamless. 
Thanks to the ITEC department at Kogod, in only its first year of existence the Graduate Information Society has cultivated exceptional networking opportunities. They include site visits with major IT corporations, partnering with Society of Information Management (SIM) - which gives students access to top area CIOs - and sponsoring popular school tech events such as "IT's a Carnival."
This event marked the second time GIS has arranged a site visit to a major technology vendor. Last spring the club sponsored a visit to Microsoft's Executive Briefing Center and viewed demonstrations of new products such as the Microsoft Surface. 
Recently the club was approved to become an official chapter of the Association of Information Systems (AIS), a premier global organization for academics specializing in information systems.
Graduating President Peter Khanahmadi is proud of what the club has accomplished during his time at Kogod and feels good about its future.
"Handing the reins over is bittersweet," he said. "But Kannan Jayaprakash, the incoming president, will ensure the club continues to achieve great success."