In the Community
Finding the Intersection of Business and Service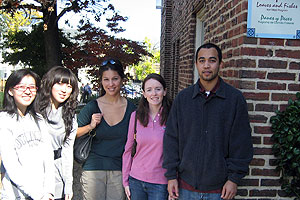 The popular campus saying of turning "ideas into action and action into service" is ringing true at Kogod. K-LAB (Kogod Leadership and Applied Business) is leading the way with unique volunteer opportunities.
Tracy Landers, Kogod's Associate Director of Programming and Student Activities, began a volunteer program for graduate students in 2008, entitled "Making a Difference is Our Business."
She saw a need for students to increase their engagement with the community and "a trend among business schools to look at corporate social responsibility," Landers said.
Graduate students have worked with a variety of local organizations such as Washington Parks and People, Loaves and Fishes, House of Ruth, and several more.
Landers' aim is to focus the projects on business whenever possible.
"I want the students to be able to meet with the CEO after an event or take on more skills-based volunteering projects," Landers explained.
A group of graduate students are currently wrapping up a project with DC Central Kitchen (DCCK) that accomplishes that mission. They are conducting research on the organization's economic impact on the community – something the DCCK does not have the resources to accomplish on its own.
"We hope to help Mike Curtin, the CEO of DCCK, get a better understanding of how his organization's efforts directly impact the economic development of Washington, D.C.," volunteer Barbara Logan, MBA '11, said. "It is so rewarding to know that our hard work will help such an amazing organization in this area."
Landers also has a project with the Capital Area Food Bank in the works and hopes volunteers will get to meet and network with the CFO after they volunteer to sort food donations.
Undergraduate students have also been lending a hand through student clubs, such as Alpha Kappa Psi and Net Impact, as well as with the Washington Initiative project where students provide tax assistance to low-income individuals and families.
The next "Making a Difference is Our Business" opportunity will be this Thursday, April 15, from 4:00p.m. to 6:30p.m. at Thrive DC. Volunteers will be preparing and serving dinner to over 75 low income or homeless individuals.
If you would like to participate this Thursday or would like more information on upcoming volunteer projects with K-LAB, please contact Tracy Landers at tlanders@american.edu.