On Campus
Sicina 'Last Professor Standing' at All-Night Cancer Fundraiser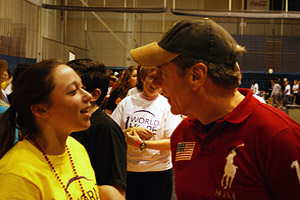 For 12 hours beginning Saturday night, AU students gathered in Bender Arena to celebrate the lives of loved ones affected by cancer. Relay for Life is an annual, student-run event benefiting the American Cancer Society and hosted by AU's chapter of Colleges Against Cancer.
This year, the 584 participants helped to raise over $48,000 for the fight against cancer. Part of their success can be attributed to the dedication of Kogod Executive-in-Residence Bob Sicina, who was the top fundraiser, soliciting about $5,400 in contributions for ACS.
Sicina was also the last professor standing, by making it from 8:00pm to 8:00am chatting with students, watching dance and a cappella performances and even playing Red Bull pong.
Sicina participated in memory of his father, who passed away 30 years ago after battling cancer.
"I never did anything about it then, so I decided to now," Sicina explained. After one of his students, Jackie Buente, BSBA '10, told him about Relay, he signed up with a team of two other professors, and started sending a slew of fundraising emails.
"Cancer is something that affects everyone, young or old, rich or poor, male or female," said Buente, who served as Sponsorship Chair for Relay. "Relay is an event that brings everyone together to fight for a common goal – a cure for cancer. Having all members of the campus community is necessary because cancer affects all of them."
Buente's and other students' involvement in Relay "impressed and amazed" Sicina.
"There was only one person from ACS helping with the event and only one student chair who had a committee of 15 people," he said. "It was an extraordinary job of organization and creativity."
Though, he added that getting through the night was "miserable."
Sicina has already started gearing up for next year's Relay for Life by starting a Kogod Profs for the Cure team and enlisting Professors Ghiyath Nakshbendi, Heather Elms, Alberto Espinosa, and Steve Holmberg.