In the Community
Helping a Nonprofit Grow on a National Scale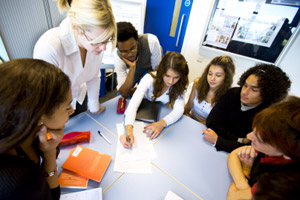 Four second year MBA students took on a new non-profit's challenges this semester. As part of the consulting practicum course, these hand-picked students were charged with the task of consulting with the local News Literacy Project (NLP) on how to expand its reach on a national scale.
NLP was founded in 2008 in Bethesda and aims to educate middle and high school students on how to think critically about news media. Its efforts are supported by participating news organizations.
"The main learning objective for the students was to provide a real world consulting project with a 'client' that requested help," said Stephen Day, the practicum's faculty advisor.
Lisa Lazarus, MBA '10, said that the group acted as business analysts by first meeting with NLP to understand their objectives and needs, and then researching to find weaknesses in their plan.
"We didn't only analyze the program itself, but their product and processes as well, including technology, marketing, and development research," Lazarus said.
She also said that the group's diversity in backgrounds allowed them to all bring different perspectives to their work, including her own in education and client relations.
Filling in the Holes

They identified gaps in two areas – the program and the product – which needed to be corrected before the organization could reach its objective scale. So, they developed a marketing and business plan that would allow NLP to reach its goals in the next 3-5 years, group member Meera Manek, MBA '10, said.
"We provided a way to better enhance their brand and create a strong Internet presence among young teens," Manek said. "We analyzed how to best use their capital assets - their top name journalists who come into schools - and branded the classroom experience."
"We also addressed areas of improvement in marketing penetration, development events, and their social media presence."
Finishing Up

The project culminated in a presentation of the students' strategic plan on April 2nd at National Public Radio's headquarters to board members and donors.
The Director of NLP, Alan Miller, and NLP board chair and NPR CEO Vivian Schiller were both present. According to Lazarus and Day, the presentation went extremely well and NLP was very pleased with the practicum's work.
"These practicums, hopefully, are a type of gold standard for preparing second year MBA students for a 'real world' project, with a motivated 'client' who needs a fresh set of analytical eyes for a project that is critically important to their organization," Day said.
Lazarus said that she was not nervous but instead felt well-prepared for the practicum and presentation.
"It's your second semester of business school, so it's just another presentation," she said. "After you have worked on something so intensely, you take ownership and feel like the expert and you just want to talk. They loved us and appreciated our help."
Invaluable Experience

Lazarus and Manek agreed that the practicum was a unique and valuable experience as second semester MBA students.
"The Business Practicum class is probably one of the best classes offered at Kogod because it allows you to utilize all the skills you learned through the two years," Manek said. "Taking this class makes you better understand where your strengths are going forward with your career pursuit."