Achievements
Anderson Wins Academic Advising Award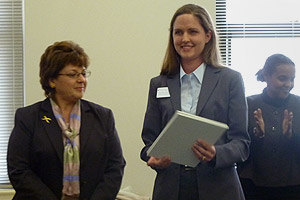 Gretchen Anderson won American University's Excellence in Academic Advising Award for graduate advising due to her mastery of Kogod graduate programs' curriculum, flexibility, and enduring support of her students.
Anderson, Assistant Director of Graduate Programs, was presented the award at a reception on Tuesday co-hosted by the Office of the Provost and AU's Advising Council.
Anderson was nominated by students who attested to her proficiency, empathy, and to having "what seemed like a magic wand to make problems disappear."
Dr. Phyllis Peres, Vice Provost for Undergraduate Studies, noted at the awards ceremony that academic advisors are "on the frontlines" of the student experience and the campus community "very much appreciates all that they do."
Dr. Anne Ferrante, Kogod's Director of Graduate Programs, noted that Anderson has particularly aided Kogod's dual-degree students as they plot a course across multiple schools' curriculums.
One dual degree MBA/MA student commented that "There was a not a single semester where I could register on my own" and "Gretchen happily met with me multiple times a semester as she skillfully crafted my program with its special scheduling, double counting of classes, and course requirements in not only Kogod, but SIS and the economics department."
Another student extolled Anderson's holistic support of students. "As both advisor and friend, she has enabled my success, shared in my triumphs, comforted me in times of pain," wrote the student.
Anderson, who holds an MBA from Kogod, has been with the school for three years; prior to that, she worked for American University's Honors program.
Sarah Michaelis, of the School of Public Affairs, earned the Excellence in Academic Advising award for undergraduate advising.