Achievements
Faculty Honorees Reflect on Years at Kogod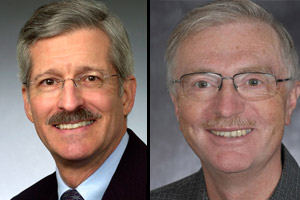 AU recently honored faculty members who are retiring or have achieved a milestone anniversary that reflects their continued dedication to higher education. We asked these Kogod professors to remember their time here and how they, their students, and the Kogod community have changed over the last 20, 30, or 40 years.
Roger Volkema

Professor Volkema is retiring after teaching at Kogod for 22 years. As a professor emeritus, he hopes to continue to work on projects for Kogod while traveling to Brazil and elsewhere.

Why did you choose to spend your career at Kogod?
I like the international flavor of Washington, AU, and Kogod. The AU campus is compact, which means folks from different countries and academic departments are always crossing paths.

What will you miss most?
In the classroom, I'll miss seeing students' eyes and posture change when their minds are opened. I could see the "ah-ha's" in their eyes when they were awakened to something personal and relevant. I loved that, and I hope they did too.

What are you most proud of?
One, oddly enough, is showing up for class. In all my days at Kogod, I can only remember missing one class due to illness. Another is my classroom format, which was structured for everyone to contribute. Long before the U-shaped classrooms, I had students moving chairs around in the room so all could see and hear one another.

What was your favorite memory?
This is hard to say. I am someone who likes to come to work every day. Being a part of the community is a real blessing for me. The (annual staff and faculty) fall brunch at the Kennedy Center has been nice, since it brings us all together without an agenda.
H. Kent Baker

This is Professor Baker's 35th year at Kogod. He teaches finance and served as the Chair of the Department of Finance and Real Estate for 11 years. He has published more than 200 articles and authored or edited eight books.

What has been your most rewarding experience here?
Although I have had many rewarding experiences while at Kogod, working with intelligent, highly motivated students continues to be a highlight.

How has Kogod changed?
The most dramatic changes that have occurred in the business school since I joined the faculty in 1975 involve the ever increasing quality of the students, faculty, and staff as well as Kogod's academic programs and facilities.

How has your research or teaching style changed?
When I first started teaching and conducting research, my orientation tended to be much narrower than it is today. With almost 40 years of teaching and research experience, I can now take a broader, macro-view of finance, business, and the world. I now have a better ability to synthesize material and see gaps between theory and practices.

What is your favorite memory of Kogod?
My favorite memory so far involves the relationships that I have developed with certain students, faculty, and staff … however, I anticipate that my favorite memory of Kogod will be one that will occur in the future.
Donald T. Williamson

Professor Williamson is celebrating his 25th anniversary at Kogod. He is currently the Director of the MS in Taxation Program.

Why have you chosen to spend the majority of your career at Kogod?
The students. No question about that. If you want to stay young the best way to do that is to teach young people. Also, I've stayed at Kogod for 25 years because it has stayed at the cutting edge of my discipline. Being a professor, you have a certain freedom to examine topics and issues and say what you want to say about them.

How has Kogod changed?
All you have to do is look around here. New buildings, new faces, new bricks and mortar everywhere. There's a lot more of everything than when I started at Kogod over in Batelle.

How have the students changed? There's a lot more concern with jobs. I would say over 25 years, particularly in accounting and taxation, it's been a pretty wide open field. Today, with the recession, over the last couple of years that hasn't been quite the same.

How does it feel to be celebrating 25 years at Kogod?
You don't think about the last 25 years, you think about the next 25 years. You stay focused on the future. By learning from the past, reflecting upon the past, taking away the good and leaving the bad behind – you'll make the next 25 years better than the last 25.
Tomasz Mroczkowski

Professor Mroczkowski is also celebrating 25 years at Kogod. He currently teaches International Business and Management in Emerging Markets courses in the MBA program.

What has been your most rewarding experience?
The opportunities I have had to put ideas into action.

How has the student body changed?
They are more global, more competitive, more challenging, and better prepared – making them more exciting to teach. Everything has to be much more current and instant and our interaction with them has spilled over into the virtual field.

What was the most interesting time period to be on campus?
The 1990s was the most exciting decade at AU because it started with the collapse of the Berlin Wall. I wrote articles and did research on the transition of Central European economies. I come from that region, so it was a personal opportunity to contribute to this historic event, and I could do it with my Kogod colleagues.

How have the areas of the world that you've focused on in your courses changed?
In the early days, there was much more work on Europe and then Japan. Today, most of the work is in emerging economies of Asia, especially China, India, and Korea.

Professor Victor Selman, who taught Information Technology, is also retiring this year. Also from the Information Technology department, Professor Edward A. Wasil is celebrating 25 years with Kogod.