Internships
Sports, Travel Highlights of Summer Internships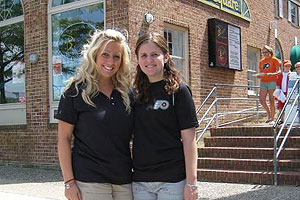 These Kogod students aren't taking a break from business this summer. Combining hobbies, passions, and book smarts, they're gearing up for experiences that will open doors to the real world of business.
Cold Hard Experience
Kelly Hartnett, BSBA '10, is pursuing her dream to work for the Philadelphia Flyers through her second internship with the organization.
"I have been a Flyers fan since I was four years old and my parents are season ticket holders, so I've grown up with them. They are my team," she said. "My goal is to work in their legal department, after [I go to] law school."
Hartnett is president of AU's ice hockey team and has even more experience with the pro hockey; she works for the Washington Capitals during the school year.
This time around in Philadelphia, she will focus more on her area of interest, marketing and management.
She snagged a return internship this summer by chatting up one of the Flyers' vice presidents a high school football game. They had met briefly once before so she re-introduced herself and ended up with a summer internship offer.
Putting Skills to Work
Two-time Uruguayan national golf champion Ana Ines Rodriguez Laretta, MBA '11, has also found the perfect opportunity with an internship for Sweet Wood Golf Company in Rockville. 
The internship is helping her make the transition from her past experience to new skills. "I am so delighted to be able to make use of the skills I have learned through the MBA program for an industry that I love," she said.
Her main duties will be in marketing and sales, but she will also try her hand at business development, cost analysis, entrepreneurship, and operations management.
Since she has golfed since she was nine years old, Laretta says that she will be able to "read the minds of the customers," know how they feel and what they want out of the clubs they buy.
Originally, Laretta had her eyes set on working for a large corporation, but she likes the diversity and creativity that she'll be exposed to at a smaller company.
She applied for the position through Kogod Career Source and the company contacted her after pulling her resume from the 2010 Case Competition database.
Traveling Abroad
Denise Phelps, MBA '12, will be jetting criss-crossing Africa this summer with two different internships in microfinance. She obtained both internships by networking with classmates.
First, she will be developing marketing and product development strategies for Yehu Microfinance in Kenya. Then she is off to Burkina Faso, Ghana, Togo, and Cameroon with GlobalGiving Foundation, an online marketplace that facilitates charity projects around the world. She'll be meeting with NGOs that GlobalGiving supports.
"We will be working directly with the staff of each NGO to discuss capacity building, scaling up, and doing some auditing functions," Phelps said. "We will also be doing some business development by locating other NGOs that may be interested in joining the GlobalGiving network."
Phelps says that both of these internships will give her a more "holistic" view of microfinance.
With Yehu, "getting international microfinance experience in Africa will help me to decide where to begin my career after graduation," Phelps said. "I also feel that … Global Giving will give me a better perspective on non-financial challenges that Africans are facing on a daily basis."
Phelps isn't the graduate student working abroad for the summer.
Jeremy Romans, MBA '12, will be working with GeesinkNorba in Amsterdam while Susanne Barakat, MBA/MA '12, is working in Vienna with SABA this summer.