Business
Kogod Global Management Institute Launch a Success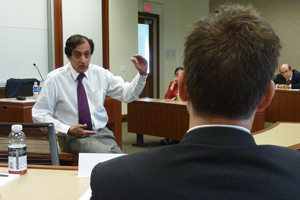 Seven intensive days after the inaugural Kogod Global Management Institute (KGMI) began, 29 students emerged with a broad understanding of the opportunities and challenges that await businesses in emerging markets.
One student said he learned more in that week than he has over any previous year of schooling.
They heard from over 20 professors and working professionals during this unique interdisciplinary study of emerging markets. With lectures, site visits, and a case competition, they explored the role these markets play in the global economy and the investment potential they represent.
Jared Lee Guyer, MBA '11, said that the week gave him a broad exposure to the topic.
"There is a paradigm shift in the world of business to emerging markets," Guyer said. "We need to be strategic and ethical in our actions when working with them."
Not Your Ordinary Classroom Experience
In this compressed 3-credit class, each day presented two or three new modules to the students taught by eight different Kogod professors throughout the week.
The professors presented their professional expertise and perspectives on topics ranging from the global supply chain to corporate governance and social responsibility, all in relation to emerging markets.
"It was great approaching how to do business in emerging markets from different standpoints," Annie Hunziker, MBA and MA/SIS '12, said. "It allowed me to make connections that I might not have had I taken courses on each issue separately."
Many participants like Thao Thompson, MBA '10, continued working after the day was over. She woke up before the sun to complete daily assignments on the modules and connected readings.
"Even though it was very fast-paced and demanding, we were completely immersed in it," Thompson said. "The professors did a good job of not overlapping subjects. They provided an overarching understanding of the modules and highlighted areas I hadn't been exposed to."
Janelle Faulkner, MBA '11, agreed, saying that it was especially interesting with her own lack of international experience and knowledge about emerging markets.
She even used travel time to get ahead on readings as the group drove down Embassy Row to their first site visit Wednesday afternoon.
The Movers and Shakers of Emerging Markets
KGMI visited the Inter-American Development Bank (IDB), the World Bank, and the Korean Embassy.
At the IDB, Chief of the Press Unit, Pablo Bachelet, explained their role as the oldest and largest regional multilateral development bank. "We're more than just money," he said as he explained their focus on development and fighting poverty and inequality in Latin America.
World Bank officials discussed their "Doing Business" survey, a tool they use to understand world economies and what to expect when you start a business in another country.
Economic counselors from the Indian, Moroccan, Hungarian, and Brazilian embassies also spoke to the participants at an Embassy Panel at the Korean embassy.
"It was interesting to get that mix of countries because each has a different story to tell," Director of KGMI and International Business Chair, Professor Frank DuBois said. "Hungary was in the worst situation because of the collapse of the Euro and external forces beyond their control with the global economic crisis."
Professionals from the Office of the U.S. Trade Representative and the IMF also brought their knowledge to campus as guest speakers. Anoop Singh, Director of the Asia and Pacific Department of the IMF, explained what is driving growth in Asia as they lead a global recovery. Although, he said that they are not exempt from the financial situation of more advanced countries.
"Demand in Asia is recovering, but Asia is still dependent on demand from other countries," Singh said. He advised that in order to maintain global growth, emerging markets need to raise their own drivers of growth, such as domestic demand in Asia.
Case Competition
The week cumulated in a mini case competition which tested the participants' knowledge of emerging markets. The case, announced on the first day of the institute, dealt with a gold mining company in Romania struggling with political, environmental, and social issues.
Teams presented their solutions in 10 minutes with a following 10 minutes of Q&A from the panel of judges made up of Kogod professors and staff.
Elijah Reese, Oyvind Ofstad, Guyer, Thompson, and Faulkner won the competition with their five-step solution to the problem.
"We looked at engaging diverse stakeholders," Thompson said. "We focused on the environment and viewed business as a long-term relationship as opposed to a short-term monetary gain."
Guyer said that all of the team members were completely new to each other and used their diverse backgrounds to their advantage. Ofstad is an SIS student, Reese is a working professional and MS Finance student at Brandeis, and the three Kogod graduate students have varying levels of experience.
"They did great work," DuBois said. "There were a lot of issues in the case with gold, gold mining, the relationship with the nation-state and the realities of the community around it. There was a local dimension in opposition to the federal dimension."
Planning is already underway for the 2011 KGMI. Dates will be announced this fall.