Business
MBA Students Attend White House Event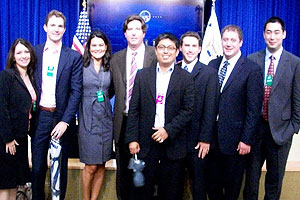 Ten MBA students were invited to hear Vice President Joe Biden speak on the Recovery Act's impact on businesses this week.
Vice President Biden and Christina Romer, chair of the Council of Economic Advisers, remarked on the findings of councils' latest quarterly report, and emphasized economic and job growth in America.
"[Biden] argued that the Recovery Act has saved, or encouraged the creation of millions of jobs and provided new opportunities for investment," attendee Nick Rubenstein, MBA '11, said. "I found his comments on the need to create new industries in order to escape severe downturns particularly pointed."
Several of the students said they felt encouraged by the Vice President's positivity for the job market, yet still see a long road ahead to full recovery.
"My biggest takeaway was that the job market is moving in the right direction, but it will still take time and patience to undo the damage that has already been done," Matthew Zeiger, MBA '11, said. "As an MBA student, it's difficult to have a lot of patience since we know we will need to find jobs within the coming year."
Until then, these graduate students were happy to take advantage of the opportunity to see the Vice President speak in person. It comes only two weeks after AU hosted President Obama for a speech on immigration reform.
"It was a great experience," James Lenihan, MBA '12, said. "Our Vice President knows how to tell a story and make a point. I learned a great deal from his stage presence and how he commanded the attention of the room."