On Campus
New Career Development Staff Greet New Year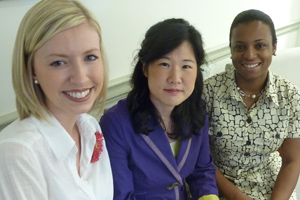 With three new staff members and a host of fall events and revamped tools, the Kogod Center for Career Development (KCCD) is ready to welcome the new academic year.
KCCD Director Arlene Hill is excited the Center is fully staffed for the first time since it was created in Fall 2008 as a comprehensive center serving undergraduate and graduate Business students.
"What this means from an advising perspective is that students won't have to wait as long to see a career management advisor," Hill said. "It also means that we will be able to more strategically reach out to employers."
KCCD staffers officially open the year on August 25 with a CareerMarket in the Kogod Student Lounge. At the farmers' market-themed event, students will have the opportunity to meet staff and peer consultants and tour the KCCD's office. There will be refreshments and raffle prizes, including gift cards to local restaurants. The first 50 students will receive a $5 coupon to the AU Farmers' Market.
But what's the best reason to attend? "It's an opportunity to get to know us, and the new staff members," Hill said.
Meet the New Additions
Julie Neill, Associate Director of Corporate Relations
Neill will focus on maintaining and forging relationships with employers. Neill will be the link between Kogod and the corporate world as the KCCD expands its outreach and strategically targets employers for industry days, workshops or other programs.
"In my conversations with employers over the past few months, I've heard nothing but positive news on the hiring front, so I'm excited about our prospects," Neill said.
She joins KCCD after three years as Assistant Director of Employer Relations and Experiential Education at Gettysburg College. Neill also worked for the Red Cross in London and the U.S. as well as a recruiter for the Peace Corps in New York City.
"It's wonderful to be part of such a talented and dedicated team within the KCCD," Neill said. "The entire Kogod community is so warm and collegial that it has made the transition really easy."
Maura Clark, Career Management Advisor
Clark will join Amit Puri as an undergraduate advisor for the KCCD. With Clark in the lineup, the center will be fully staffed with two undergraduate advisors and two graduate advisors.
Clark graduated in May with an MA in Higher Education Administration from George Washington University, where she interned with the Career Center and the Columbian College Academic Advising Office. She was previously the Director of Professional Development at the Greater Harrisburg Association of Realtors in Pennsylvania.
Clark's background in higher education and professional development adds to Puri's counseling and corporate background. Now students can choose the undergraduate advisor they "click" with most. 
Puri and Clark "really complement each other; they both understand students and have slightly different styles," Hill said.
Corinne Foggie, Operations Specialist
Foggie will manage the Center's employer and graduate outcomes statistics and recruiting technologies.
"It's vital that we have good outcomes data because … so much of external measurement is based on how successful our students are after graduation," Hill explained. "If we can't tell people that, then we're missing the story of how prepared our students are and how well they do."
Prior to joining the KCCD, Foggie worked as a Trade Analyst in the Foreign Exchange Trading Division of Morgan Stanley in NYC and Baltimore.