On Campus
Community Welcomes Future Wonks to Campus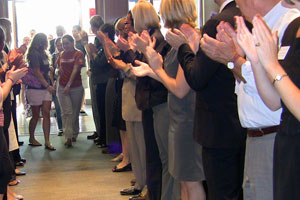 The Kogod community greeted new graduate and undergraduate students during "Welcome Week," with six full days of events on campus.
Incoming full-time MBA students kicked off the academic year with orientations sponsored by Kogod Leadership and Applied Business (K-LAB). At orientation, new graduate students explored campus and familiarized themselves with the concepts and work they will tackle in their business programs, said Tracy Dodge, Associate Director of Programming and Student Activities.
"We create an environment where new graduate students feel welcomed into the community and introduced to the people and resources that will support them throughout their degree," Dodge said.
Orientation emphasizes building relationships with classmates, learning how to work in teams and building a network from the start, Dodge added.

"The first day has been a good start," said Kate Robinson, MBA '12, at Tuesday's barbeque lunch. "They've sort of thrown us right into it."
The week's events encouraged graduate students to mingle with faculty and staff right away, said peer leader Matt Zeiger, MBA '11. He and other second year students are hoping to "take the first years under our wing and help them out any way we can."  
Part-time MBAs will have orientation on Saturday, August 21.
On Friday afternoon, Kogod faculty and staff applauded the incoming undergraduate business students as they entered Kay Chapel for an Academic Welcome event.
Alumnus and speaker David Nason, BSBA '92 and JD '95, gave students two pieces of advice for their time at AU. First, ask questions and look for help if you need it. And second, figure out exactly what is right for you - don't just follow those around you.
Nason played a pivotal role in creating and implementing the U.S. Treasury Department's response to the 2008 and 2009 financial crisis, including aspects of the Troubled Asset Relief Program (TARP).
He told the students stories of his freshman year experiences, including one time a friend asked him to dress up as Clawed the Eagle at an alumni donor event. The costume smelled and Nason could not see through Clawed's eye slits, but he made a close friend for life from that small act.
"There's so much randomness that you're going to experience here," said Nason, who will become a senior vice president at GE Capital on August 30.
"So I'm not going to be the guy who tells you to plan every step. Enjoy the randomness of it. Enjoy that fact that you don't know exactly what you're going to do."
Lawrence Ward, Associate Dean for Academic Programs, showed freshmen and transfer students the Kogod Ledger, which each student will sign upon graduation.
"When you graduate, it will not only be about you becoming a finance wonk or a management wonk," Ward said. "It will be about you writing your name in history."