Professional News
Exemplary Researchers, Practitioners Join Kogod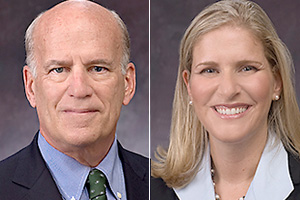 Kogod's 11 new faculty members bring a breadth of international experience, research interests, and professional achievements to American University and the new academic year.
All 11 – including three tenure-track faculty and eight term faculty - join Kogod's teaching community for the start of the academic year.
The new faculty members have a wide range of international experience, from a former Marine Corps officer to a former analyst for the United Nations. They have worked for various departments of domestic and international governments, have researched such topics as how social interactions influence professional relationships, and have developed models that uncover hidden value in companies.
New Tenure-Track Faculty
Bong Hwan Kim earned his Ph.D. in Accounting from Washington University in St. Louis and will join Kogod's Accounting Department as an Assistant Professor. Kim is interested in the timeliness of companies' financial "bad news," and the impact of financial reporting on a firm's investment decisions. He has extensive work experience in South Korea and has worked with the United Nations' International Fund for Agricultural Development in Rome. Kim holds an MBA from the University of Michigan and a bachelor's in economics from Seoul National University.
Susan Krische joins the Accounting Department as an Associate Professor from a position at the University of Illinois at Urbana-Champaign. Krische previously served as an academic fellow with the Office of the Chief Accountant of the U.S. Securities and Exchange Commission. Some of her research and teaching interests include judgment and decision-making in the accounting field. She is a board member of the journals The Accounting Review, Behavior Research in Accounting, and Contemporary Accounting Research. Krische earned a doctorate and a master's at Cornell University in addition to a master's and bachelor's at the University of Waterloo in Canada, from which she recently won an alumni award for her academic work.
Alexandra Mislin comes to Kogod from SUNY-Buffalo, where she was an Assistant Professor in the Management Department. Mislin's research interests include how financial incentives and social exchanges, such as emotions and trust, influence business dealings. She holds a master's and a Ph.D. in Organizational Behavior from Washington University in St. Louis, and a bachelor's in economics from Kenyon College.
New Term Faculty
Additional newcomers to campus include Assistant Professors Denise Buhrau, Itir Kareasmen-Aydin and Ethan Pew, as well as new Executives-in-Residence Michael Carberry, Claudio Carpano, Anthony Del Mar, Dan Jacobs, and Meredith Persily-Lamel.
New term faculty include a former trial attorney who worked as the senior negotiator for the Bureau of Economics, Energy and Business in the State Department (Jacobs), a business and organizational educator who has worked with many members of Congress (Persily Lamel), and the former senior international wealth management advisor for Merrill Lynch (Del Mar). One new faculty member studies how people perceive money (Pew) and another wrote a dissertation on how to get patients to follow their physicians' advice (Buhrau).
Also included are a revenue management researcher who serves on three editorial boards (Karaesmen-Aydin), the president of a multinational media analysis company (Carberry), and the founder of an international management consulting company (Carpano). Professor Carpano was also recently named an honorary consul from the state of North Carolina to Italy. In this position he will support the business relationship between the two and consult with other U.S.-based Italian diplomats.
The executive-in-residence program brings a wide variety of business leaders with diverse skills and backgrounds to Kogod's classrooms.
The new faculty will join Kogod's Marketing, Management, International Business, Finance and Real Estate, Accounting, and Information Technology departments.