Education
Kogod Introduces Bachelor's in Accounting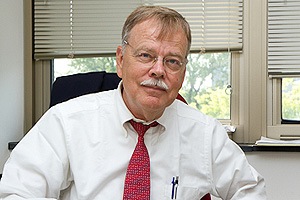 Student demand and employer requirements are the driving force behind Kogod's new bachelor's degree in Accounting (BSA).
The new degree offers students preparing for professional accounting careers an alternative to pursuing a BSBA degree with an Accounting specialization.
The program was developed with a market-driven approach.
Previously, students specializing in Accounting may not have taken certain courses that employers look for, said Professor Robert Thompson, chair of the Accounting Department.
"Now, we've got a clear path for Accounting students to follow," Thompson explained. "And employers can look at this and see they have students who are prepared to function at a high level in their jobs."
The BSA degree requires 24 credits of Accounting coursework beyond the undergraduate core; a BSBA degree with a specialization in Accounting requires only 12 credits.
Kogod's highly regarded Accounting Department currently offers all courses needed for the BSA degree, including advanced courses such as Governmental & Not-for-Profit Accounting, Accounting Information Systems, and Advanced Financial Reporting.
CPA Preparation
To sit for the Certified Public Accountant (CPA) exam, students must complete between 120 and 150 collegiate credit hours, depending on state requirements. Many states allow a graduate to take the exam after 120 hours and obtain the CPA license after completing 30 additional credit hours.
"The BSA prepares students to be eligible to take the CPA exam in states that require only 120 credit hours to take the exam," said Professor Sue Marcum, director of the master's in Accounting (MSA) program. "Coupled with a master's in Accounting or Taxation, students can then obtain the 150 credit hours required for CPA licensure."
Incoming students can declare the BSA as their major. Current BSBA students can switch to the new degree, which was officially approved over the summer.
A celebration of opportunities in the Accounting field will take place on September 8 at Accounting Day, an industry-specific career development event hosted by the KCCD.
An employer panel will kick off the event, followed by a career and networking fair with employers from public, private and government sectors.
Accounting and other Kogod students will have the opportunity to learn more about different career tracks and to discuss opportunities with representatives from national and regional organizations.