Technology
Former GM CIO Shares Outlook With Future IT Leaders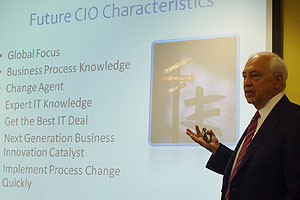 The job of a CIO is five to 10 times harder than it was a decade ago.
At least, that's what Ralph Szygenda thinks - and he would know. Szygenda was formerly CIO of General Motors, Bell Atlantic, and Texas Instruments and once crowned "CIO of the Year" by Information Week magazine.
The mogul spoke to information technology leaders at an executive workshop hosted by Kogod's Center for Information Technology and the Global Economy (CITGE) last week.
Part of the struggle, Szygenda said, is the increase in user demands: workers now want multi-use appliances (thanks to products like the iPhone) and access to continuous technology - not to mention a plethora of choices and the ability to pick and choose from a suite of privacy features (or abandon them altogether). This stems from the constant collision between your customers, your employees, and their children have with technology.
In short, to information technologists: "This is either a great time or the most depressing time they've ever had," he said.
There is some good news for current and future CIOs.
Szygenda also predicted that the IT industry is on the verge of a new wave of innovation after a decade of focusing primarily on efficiency.
"The CIOs that have been doing well in the past ten years were efficiency CIOs," Szygenda said, adding that the last period of sizable innovation peaked in the early 1990s. Szygenda contended that periods of heightened efficiency are often followed by a focus on innovation in a cyclical fashion.
So what's a CIO to do?
Simplify, standardize, and collaborate, according to Szygenda. Be cost-effective and precise, ensuring that innovation is truly at a "point of need." And - here's the kicker - this should be done within two years, possibly with a deliverable in the first six months. CEOs "don't have the patience" with IT they once did.
Furture CIOs should have more than simply expert IT knowledge; the position is evolving because of business drivers, including globalization and a demand for low prices. CIOs need to be change agents who can implement change quickly; be catalysts for innovation; be intuitive and analytical; and see the big picture. And, of course, "you have to recruit the best," Szygenda said.
The workshop was entitled "The Evolution of the CIO Position in a Complex World" and also featured practitioner speaker Terry Milholland, chief technology officer of the Internal Revenue Service and former CTO at Visa International.