International
Bringing Commerce to Conflict Zones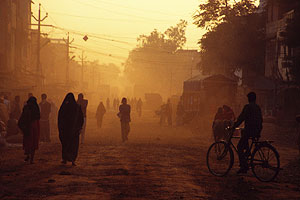 In Tikrit, Iraq, the town where Saddam Hussein was born, a different kind of legacy is beginning: an entrepreneurial one.
An Iraqi doctor plans to build a medical lab, complete with a burn treatment facility and a mammography unit. The lab will bring much-needed care to a region where tests are often sent 100 miles to Baghdad for results and many burn victims die from dehydration before receiving treatment.
The proposal is attracting interest from LabCorp, a multi-billion dollar multinational company – thanks to help from Kogod students and faculty.
The Tikrit project is proof positive of the success of the Peace Through Commerce practicum, a course is in its second semester that grew from Professor Bob Sicina's experience with a similar State Department program.
An international finance expert, Sicina draws on 30 years' experience as a senior executive with Citibank and American Express. He co-teaches the course with Professor Heather Elms, who specializes in international business strategy and corporate social responsibility.
Funding Dilemmas
The class of 20 students conquers real-life funding problems faced by entrepreneurs in high-conflict, impoverished zones: the medical lab in Iraq; a poultry farm in Afghanistan; a rice plantation in the Philippines.
When the projects stall and entrepreneurs need assistance, the Peace Through Commerce consultants step in – by identifying practical sources of funding for the projects.
Right off the bat, student teams often have to re-envision a feasible business plan for a proposed project.
In the case of the medical lab, the proposal was initially too large to realistically find backing from grants, foundations, or corporations. Dr. Mukhlis - the entrepreneur - had already consulted another university to no avail when Sicina and his class stepped in, in early 2010.
The students reshaped the proposal into a pilot program to increase its chances of survival, and built a database of potential funders. They also researched regional medical labs, healthcare providers, equipment, and local culture for the proposal.
The majority of the proposals are for business ventures in volatile regions.
One such environment is the Philippines' Mindanao region, a high-conflict, predominantly Muslim area that regularly faces insurgency terrorism. A proposal to start a rice plantation there – which would provide a vital source for food - was languishing before the Peace Through Commerce practicum pitched in.
Profit and Purpose
For the students, these projects are not a one-off. Many of the consultants, having graduated years ago, are part of an informal Peace Through Commerce Alumni Association.
"Our pioneer members will be those that volunteered without course credit to be part of the effort during the early years," Sicina explained. "The alums will support the effort in between semesters so that our client entrepreneurs have uninterrupted support throughout the year."
Bogi Balanyi, MA/MBA '08, said her involvement keeps her in touch with the international business world, since she's currently working in national security. 
"I enjoy working with my old MBA teammates and profs. These guys can call me any time, and I will jump," she said. "These projects challenge me, allow me to be creative."
The student consultants also view the experience as a way to give back to the global community.
"It fulfills a higher calling, responsibility, and commitment," said Leonard Gooz, MBA '08, who works fulltime for Gallup Consulting.
In between projects, the students examine how conflict complicates the already-challenging prospect of entrepreneurship and examine the role entrepreneurship plays in economic development and peace.
But the academic component is secondary to serving customers, said Jose Arrieta, MBA '09.
"It allows students that are excited about international business to focus on developing innovative business solutions for some of the world's poorest people," Arrieta said.
"It forces students to think 'outside the box' while creating business plans that will need to work in highly complex and changing business environments."