Student Life
Student-Led Finance Association Chapter Nationally Honored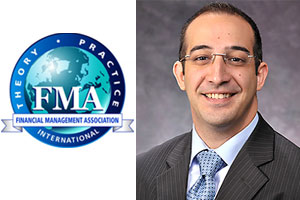 Kogod's chapter of the Financial Management Association International (FMA) has received the highest award that a chapter can earn: the FMA Superior Chapter Award for the 2009-2010 academic year.
"We set out from the beginning of the year to add substantial value to Kogod [by bringing] the FMA Honor Society to Kogod," said last year's AU FMA president Kareem Nakshbendi, MBA '11. "We systematically accomplished our goal, as a team."
Fewer than five percent of the 200 chapters around the world received the honor. The only other D.C.-area school to receive the award was Georgetown University.
"This is proof our students want to excel in their coursework and want to advance the finance profession," said Finance Professor Octavian Ionici, the chapter advisor.
Adding to the distinction, the AU FMA has only been around for one year.
"We accomplished in one semester what most chapters accomplish in an entire year," said current AU FMA President Joe Ginter. "With an additional semester at our disposal to plan career development programs and more networking events, we will be able to better help our members in learning the tools and building the contacts necessary to enter the financial industry."
Last year, students focused on continual learning, career guidance, leadership and technical skills, mentoring, and network opportunities, Ionici said. The Financial Services and Information Technology Lab (FSIT) — part of the Kogod expansion — added to the chapter's success as a means for students to expand their technical skills. FSIT bridges theory and practice with its computer lab, behavioral research lab, and real-time data feeds.
"To manage their future career, FMA students work to find the right solutions to the advanced technologies, increasing time demands, a competitive job market and multidisciplinary business culture," Ionici said.
To earn the FMA award, a chapter must meet certain criteria, demonstrate "exemplary" management, and provide members with excellent activities.
Some of AU FMA's activities last year included:
Site visits to Calvert Investment Group and Bloomberg

Hosting and organizing a Girl Scouts of America Capital Currency Patch Program

Alumni speakers Eric Green from Penn Capital and Edward DeSalvio from BNY Mellon 
A finance resume critique event
"The FMA offers many opportunities and venues for student members for the purpose of exchanging ideas and technical skills," Ionici said. "The FMA helps everyone stand out in the crowd."
Any student interested in joining the AU FMA can e-mail fma@american.edu with membership questions.