International
Colombian Loan Program Paves Way for Study at Kogod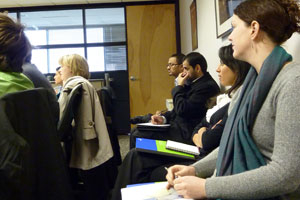 Many master's students pursue a degree to take their new knowledge to other parts of the world. At Kogod, where one-third of the student population is international, many students aim to develop and bolster their home countries.

Two such graduate business students will have the chance to put to use their Kogod teachings in their native Colombia. A Colombian non-profit has awarded merit-based loans to Isabel Saldarriaga Arango, MBA '11, and Catalina Barberi, MBA/MA '12, to earn their degrees at Kogod.
The organization, Colfuturo, aims to help Colombian professionals further their educations abroad through its Scholarship Loan Program.
Students who receive a loan and return to Colombia after graduation only have to repay between 50 and 75 percent of the loan.
This year, 1,025 Colombian students received loans from Colfuturo to earn master's or doctoral degrees at universities with "high quality graduate programs." By reviewing articles and international rankings, Colfuturo privately ranks the best post-graduate programs in the world. Along with Kogod, other "high quality" programs are those of Harvard University, Columbia University, and the London School of Economics and Political Science.
"This is not the first time a KSB student got into the Colfuturo program," Saldarriaga said. "So I think it speaks well of the business school and the students that come to Kogod."
Colfuturo is the only resource in Colombia to borrow money to study abroad, Saldarriaga said. Students submit college transcripts, essays, resumes, and credit score checks in hopes of earning a loan.
Saldarriaga is concentrating in marketing but is also interested in international business. She earned her BSBA from the Universidad EAFIT in Colombia. She would like to work in the U.S. before returning to Colombia.
Barberi received a Colfuturo loan last year to pursue a dual master's degree in Business Administration and International Economic Relations. After graduation, Barberi would like to work in international business consulting and research.
Seven other Colombian students received similar loans to study at AU this year. Over 20 total Colombian students have studied at AU through a Colfuturo loan since 1992.