Achievements
Graduate Students Give Kogod Environment Top Marks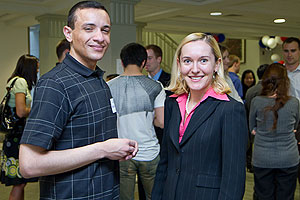 Kogod offers an exemplary campus environment, according to the latest Princeton Review business school rankings.
The school again made Princeton Review's list of the top 300 business schools and snagged eighth place in the Best Campus Environment category for its safe, attractive campus and advantageous D.C. location.
On an anonymous basis, graduate students evaluated their Kogod experience, praising the school's "small and friendly" program, "great learning environment," and "solid academic program."
"The students are all very friendly and socialize together regularly," wrote one student. "The professors are very approachable and friendly, and have some impressive resumes. The academics are tough and the program is effective but not cut-throat."
The students feel Kogod especially excels in Real Estate, Accounting, International Business, Finance and Commercial Banking, and praised the school's faculty members, who "bring a lot of academic and professional experience" to the program. "We have former investment bankers, former consultants, former CFOs, and lifelong academics," bragged one student.
The program has a "low key, friendly and accessible" atmosphere with diverse student backgrounds and "many clubs and organizations in different fields," the students said.
Plus, "most agree that D.C. is one of the most exciting and fun cities in the country," one student said. "The D.C. location gives Kogod a huge advantage," wrote another student. "There are so many more opportunities to pursue when you are in a big city." The urban location also "helps Kogod draw diverse international students," enhancing in-class experiences and networking opportunities.
The Kogod Center for Career Development (KCCD) "does a great job in involving alumni in student life," according to one student, citing interactive Wall Street trips and helpful career counselors. "There are lots of networking opportunities … [and] lots of on-site visits with direct interactions with alumni, both young and more experienced."
The students also mentioned Kogod's new expansion, which included seven new classrooms, three student lounges, the Financial Services and Information Technology Lab, the KCCD, breakout rooms, a behavioral research lab, and a mini computer lab. With these developments, one student predicted: "I think there will be some great changes" in Kogod's future.