In Remembrance
Professor Marcum Remembered as Exceptional Teacher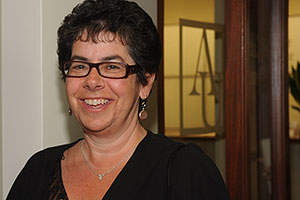 Updated October 27, 2010: The Memorial Service for Professor Marcum has been scheduled for Tuesday, November 9 at 8:00 p.m. in Bender Arena.
Sue Marcum, a cherished professor at American University's Kogod School of Business and director of the master's in Accounting program, tragically passed away early this week.
Described by her students and peers as warm, caring, and funny, Sue was a popular instructor, earning Kogod's Professor of the Year award for three consecutive years. Students say she brought Accounting – a challenging subject – to life with her enthusiasm.
"It was all about the other person with Sue... she loved young people," said Don Williamson, a professor in the Accounting department and director of the master's in Taxation program. He was a close friend of Sue's.
"There was no one I know who wanted to be a teacher more than Sue Marcum."
Sue was also a proud two-time alumna of Kogod; she earned her BSBA in '79 and returned for her master's in Taxation in '87. As a scholarship recipient herself, Sue's gratitude led her to work with the Alumni Relations office to form the Sue Marcum Scholarship Fund. She had been contributing toward its endowment over the last few years and was excited about the opportunity to support Kogod alumni who returned for a master's in Accounting.
Williamson taught Sue in her first graduate course at Kogod, during the summer of 1985. "We hit it off right away," he recalled. He hired her as an adjunct in 1999, and shared in her pride when she was appointed a full-time Executive-in-Residence in 2005. 
Beyond the Classroom
Colleagues say her dedication to students was unparalleled. "She was just infinitely helpful," said Bob Thompson, chair of the Accounting department.
"I owe my entire professional career to Prof. Marcum - literally, she is the reason why I'm an Accountant today. She was my first accounting professor and her energetic attitude and enthusiasm made me fall in love with managerial accounting," wrote Polina Kremer, MSA '10, on Facebook. "I'm dedicating my MSA degree to you, Professor Marcum."
Thompson remembered one time Sue was nominated for a teaching award at the University level and had to submit a list of students' names as potential recommenders. The list was 30 names long, and every one of them wrote a letter, singing her praises.
Sue served as faculty adviser to the Kogod Accounting Club, and regularly pitched in with career development events and encouraged alumni to remain engaged. She was also a faculty brother to Alpha Kappa Psi, the coed business fraternity with a chapter on campus.
"She was a part of the heart and soul of the Kogod community," said Richard M. Durand, Robert and Arlene Kogod Dean. "As the community mourns, we send our deepest condolences to her family and friends." 
MSA Program
As director of the master's in Accounting program, Sue drew on her experiences to build the bridge between an undergraduate degree and the extra education that a student needs to become licensed as a CPA.
"She was a person who could coax people into the program on one end, teach them a lot of good stuff in the middle, and then…she could pick up the telephone, call someone she knew, and help them find a job," said Thompson.
"She monitored every part of the program, and was always thinking of ways to improve it."
Love of Spanish
Her love of learning resulted in her own continuing education. She learned Spanish as an adult, mastering the language by practicing with her bilingual students and traveling to Spain and Argentina. She completed a TESOL certificate at AU in 2009 and contemplated retiring or teaching in Latin America one day.
And, most recently, she advised a group of Kogod students preparing for the 4th Annual Business Language Case Competition at Brigham Young University – a competition held entirely in a foreign language: in this case, Spanish. She was set to accompany the students to Utah in mid-November.
Prior to her appointment at Kogod, she had an admirable career in both public and private Accounting. For seven years she served as the tax director for Ringling Bros. Barnum & Bailey, a fitting position for someone with a great sense of humor.
Signs decorate her office door on the terrace level, saying, "You made Accounting FUN!" and complimenting her baking skills. Her legacy extends to the virtual world, where students created a Facebook page "Remember Professor Marcum", which over 745 people have "liked."
"Ms. Marcum made sure we knew that as her students, we were her number 1," wrote Chris Carazas, KSB '10, on the Facebook page.
"This was a place she really fit in, where she made a remarkable contribution," Thompson said.
"She had a rapport with the students that was beyond anything I've ever seen before."
Members of the AU community are invited to stop by the Kogod lobby on the first floor to share their memories of Professor Marcum and their condolences for her family and friends in a book of remembrance.