Business
At Hispanic MBA Conference, a Meeting of the Minds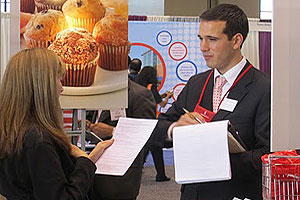 The chance to have face-to-face time with representatives from Fortune 500 companies does not come every day. That's why Sonal Mehta, MBA '11, headed to the National Society of Hispanic MBAs (NSHMBA) annual conference last month.
From a career expo to professional workshops to CEO speaker events, the 2010 NSHMBA "Winds of Opportunity" Conference in Chicago let students connect one-on-one with employers at companies including IBM, Microsoft, Target Corporation, GE, MillerCoors, and UnitedHealth Group.
"Many of the companies receive thousands of applications online," Mehta said. "Speaking to them in person makes all the difference." 
Mehta was able to interview with Microsoft during the conference.

A National Network
This year, eleven Kogod MBA students attended the conference, interviewing with employers and getting to know other MBA students.
Luis Lizarazo, MBA '12, talked with over 25 employers at the career expo. "Attending the conference was a great way to get exposure to a national network of employers and MBAs," Lizarazo said. "It was a much bigger conference and a lot more fun than I expected."
He even test-drove a BMW on the rainy Chicago highway for nearly an hour; the company had multiple cars at the conference that students could test-drive, so Lizarazo signed up for a slot and took an X6 out for a spin all by himself.
Students who maximize the networking opportunities at conferences like NSHMBA can ultimately land job offers, said Jen Murphy, KCCD's Associate Director of Career Management.
"From my point of view, this is where the rubber hits the road as far as making the connection, following up, and networking," Murphy said. "If students follow through with these tactics, potential internships and job offers can be extended."
Promoting Diversity in Education
One of the conference's main themes was promoting education, especially higher education, for Hispanics, Lizarazo said.
Frank Alvarez, president and CEO of the Hispanic Scholarship Fund, spoke about the education system's affects on Latinos at a luncheon for NSHMBA University Partnership scholars.
The partnership program is a collaboration between NSHMBA and universities to increase the number of Hispanic students earning bachelor's and master's degrees. As a University Partnership scholar, Lizarazo's conference fee was waived in exchange for his tweeting throughout the conference.
At Kogod, Lizarazo and Mehta are part of a program comprised of 15.3 percent U.S. minority students and 25 percent international students. Nearly half of Kogod's MBA students are female, well above the national average of 36 percent.
Mehta cited international business courses on cultural diversity and group of Ghanese MBA students' visit to Kogod earlier this fall as examples of Kogod's emphasis on diversity.
"I think it's great that our school is providing such opportunities for us to be exposed to these topics, as they will be crucial with time and as the world changes around us," Mehta said.