Technology
Graduate Students Present to Real-World Clients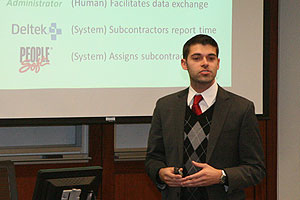 A group of graduate students recently presented a simulated 'Immigration Benefit Management System' to their client - U.S. Citizenship and Immigration Services. 
The proposed system is a secure and central online application system for U.S. citizenship and residency that would make the application process much easier and faster for the user.
The students were members of Professor Alberto Espinosa's ITEC-630 Business Analysis class, which provides graduate students with the basic skills necessary to interact with clients, understand the problems presented in system implementation, and learn to formulate solutions. The goal of the course is to teach students to document current business processes and conceptualize improved systems, describe the functional requirements for the systems, and analyze that information.
There were a total of seven teams presenting on various business applications, and students worked with clients including Blackboard, Marriott, CSC Corp., Unisys, IBM, DRT Strategies, Adventist Hospital and Deloitte. Clients from the organizations that the groups worked with evaluated the students' projects.
Each team gave a fifteen minute presentation on their project that included the problems their organizations faced, business process models, and use cases.
The group that presented the immigration application system worked with their client to identify the problems with the current U.S. citizenship or residency application processes and formulate potential solutions. 
Because the current application system has no central system for those seeking U.S. citizenship or residency - and most forms are paper - there is a backlog of applications, lost applications and little coordination between the different aspects of an immigration application. An automated system like the one the group presented would drastically reduce these issues.
The students used iRise Reader, an application that allows users to visualize software before any coding is done, to show their concept for the application website and take the audience through a simulated immigration application.
Other groups presented on a Jobswap system for Deloitte, a block reservation system for Marriott, and an automated Passport Information Consolidation System for the Computer Science Corporation.
Through these projects, students had the opportunity to work with clients to learn about consulting projects and develop specifications for their clients' business applications to prepare them for careers in information technology consulting and business analysis.
For Jonathan Dudley, MBA '10, the Business Analysis class was the final class he took for his degree, and he appreciated the opportunity to work with actual clients.
"The class gave real world experience in consulting and working with clients, which is helpful for students entering the job market," he said.