Achievements
Business Brothers Earn Academic Honors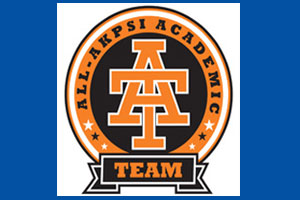 American University students took top honors this month as 18 students – the most of any school across the country – were accepted to the professional business fraternity Alpha Kappa Psi's national academic team.
The All-AKPsi Academic Team recognizes top scholars and leaders in its fraternity chapters across the country who contribute to their campus and community while maintaining academic excellence.
A co-ed fraternity, Alpha Kappa Psi provides leadership development and personal and professional training to college students. Academic Team applicants must be juniors or seniors with at least a 3.50 GPA. This year, 275 students were named to the team, up from 206 students last year.
Recognized AU students include:
Everett Antrim-Indart
Jessica Bock
Elizabeth Castle
Samantha Dina
Alex Germany-Wald
Matthew Killip
Max Lien
Sean McEvenie
Anna Merkoulova
Kristin Misdom
Julia Moon
Christina Oresajo
Alexander Priest
Elizabeth Seidell
Melissa Smith
Elizabeth Ung
Emily Weiss
Julie Wu

AU's chapter of Alpha Kappa Psi – Lambda Nu will hold spring open rush starting Monday, January 17 in the Kogod New Student Lounge from 1 to 3 p.m.
Open rush will continue on Jan. 18 in the Kogod New Student Lounge from 6:30 to 8:30 p.m. and Jan. 19 in the Butler Boardroom from 5 to 7 p.m. Professional attire is required for the final day of open rush, Jan. 20 from 5 to 8 p.m. in the Kogod New Student Lounge, when fraternity brothers will discuss the professional aspects of Alpha Kappa Psi.
All students are invited to rush Alpha Kappa Psi, from freshmen to seniors. Students interested in joining the fraternity can visit this link for more information.