On Campus
Tax Breakfast Workshop Highlights Extensions Debate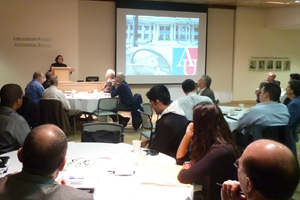 A new year ushers in new tax issues, but the start of 2012 also launched Kogod's Master of Science in Taxation Breakfast Series. On Jan. 26, more than 50 local tax professionals gathered on campus; tax extenders—provisions in the tax code that require annual or biannual renewals by Congress—were the hot topic.
Kara Getz, tax counsel and legislative director for Rep. Richard Neal (D-MA), presented a legislative outlook for 2012. Chester Abell, national director of tax accrual and IFRS services for Ernst & Young, shared recent developments in accounting for income taxes.
"Passing the 'tax extenders' package used to be part of routine housekeeping, but the topsy-turvy, weird environment is making it more difficult this year," said Getz. "With everything else going on, it's taken a back seat until now."
One of the most contested extensions on the table is the payroll tax cut. A short-term extension passed in November will expire on Feb. 29. Unless Congress acts, the payroll tax break for employees and emergency unemployment benefits will lapse.
"Both parties agree that we need to get this bill passed, but we have to find a way to offset the $180 million price tag," Getz said. The Senate Finance Committee held a hearing on Jan. 31 to discuss a long-term solution to tax extenders.
"Companies are very concerned with the expiring tax provisions," Abell said. "If tax law changes, rates could be affected." Abell reviewed a number of current and ongoing concerns related to income tax, including valuation allowances, foreign earnings, and disclosures.
Both topics were well received by the diverse crowd, with a number of attendees asking questions after both presentations.
"I was very impressed by the turnout and the quality of the remarks of the two presenters," said Don Williamson, professor in the MS in Taxation program and executive director of the Kogod Tax Center.
"At no other university could a group of tax practitioners have had the same opportunity to interact with Capitol Hill policy-makers and Big 4 national office personnel at the same time, and in such an intimate setting."
The breakfast series will convene four times each semester. The next meeting is scheduled for Feb. 23.