On Campus
Panelists Offer Advice for Students in Case Competition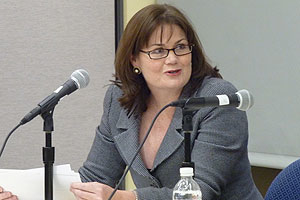 This year's Kogod Case Competition asks competitors to imagine themselves as consultants to Economist magazine's senior leadership on how to increase their success.
To do that, they need to brush up on the industry's challenges – fast.
On Wednesday, participating students attended a "Meet the Panelists" event, where seasoned business leaders answered student questions and spoke about their backgrounds and current positions. The panelists are all senior executives in media fields.
They included:

Keith Norman, the National Advertising Director of Politico
Bill Kiniry, the Vice President of Brand Strategy and Management of CQ/Roll Call
Tom Rosenstiel, the Director of the Pew Research Center's Project for Excellence in Journalism
Jennifer Swint, Senior Vice President and Regional Business Development Director of APCO Worldwide
The panel was moderated by Assistant Professor Sanal Mazvancheryl of the Kogod Marketing department.
According to the panelists, the Economist may be able to translate some of the challenges it faces into advantages. For example, the Economist targets an elite and specific demographic because of its content and follows a European pricing structure, which relies more heavily on circulation for income than on advertising.
Immediately, these characteristics seem like obstacles, but Rosensteil pointed out that it is generally easier to turn a profit from niche markets, which ultimately works to the Economist's advantage.
The Economist was founded in 1843 with the intent of providing its readers global coverage of a wide range of topics, including politics, business, arts, and of course, economics. Because of the variety of topics, the publication defies easy categorization while holding on to a strong brand identity and a loyal readership.
"The Economist has a voice, a very distinct voice. They are free marketeers, they endorse candidates," said Bill Kiniry of CQ/Roll Call. Because of that, the demographic is specific and elite, which may present a challenge in terms of growing a customer base.
Jennifer Swint said her company, APCO, faced a similar problem: the question of how to build a customer base without devaluing current customers. Swint said her company would rather be a value brand than a commodity offering: "We'd much rather have a core set of clients who know us for what we do and who will pay us for what we do," she said.
According to Keith Norman, Politico is growing even in the current economy, which is not common in the media landscape. He attributes their growth to finding the right mix of content and having a strong brand. In the past few decades, the consumption of news has drastically changed with the advent of social media tools, Norman said, but that could also be an advantage rather than a problem for the Economist.
The panelists agreed that any business would have a hard time ignoring social media and mobile platforms; in fact, the Economist recently released a mobile app.
Though the internet and e-readers may pose somewhat of a challenge for a subscription-based business model, Rosensteil said that for many, reading the print version of the Economist is a ritual, and holds a certain amount of exclusivity that is lost on the internet. 
He called reading in print a "lean-back experience" as opposed to the "lean-forward experience" of reading on a screen, but noted that "the tablet may be closer to a lean-back experience. That's why people are building apps." Tablets allow readers to enjoy the advantages of a digital environment, he said, but don't necessarily lose the exclusivity of print.
Swint acknowledged that the challenges of this case were immense, but said how exciting it was that the solution may come from this group of people: "This case is interesting and full of challenges and if you can solve it, you'll be very rich people."