In the Community
Red Dress Benefit Aims to Mend Hearts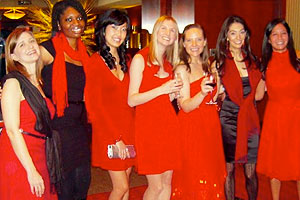 The Red Dress Benefit, a charitable event co-organized by the American Heart Association and Kogod Women in Business (KWIB), drew a large crowd February 4th. Attended by Kogod MBA students and friends, Red Dress was one of the most successful and well-attended events KWIB hosted in recent months.
It was not just the good cause – raising funds for women's heart health – that made Red Dress Benefit special. Red dress attire, light hors d'oeuvres, and soft jazz music playing in the background all created a lively and relaxed atmosphere, making it a perfect DC socialite event.
The Red Dress Benefit took place at the Marriott Courtyard in Dupont Circle. The venue was donated by AU alumnus Marc Duber, Executive Vice President and COO of The Bernstein Companies.
The event included notable speakers Patty MacEwan, Vice President of corporate relations for the American Heart Association, and China Terrell, a 33-year-old corporate attorney and heart disease survivor.
MacEwan stressed the importance of heart disease awareness among young women in her speech. Terrell, a passionate and charismatic speaker, shared her story of struggle and then triumph over cardiovascular disease. 
Her struggle showed that heart disease could affect anyone regardless of age and gender. She also stressed that cardiovascular disease affects women differently from men and that it is imperative young women stay informed and get regular medical check-ups to stay "heart healthy.""
Attendees enjoyed door prizes provided by the Washington Redskins, Mary Kay Cosmetics, Frosting: A Cupcakery, and The Tasting Room, Maryland's premier wine bar and restaurant. One of the special prizes included a cap autographed by Washington Redskins celebrity corner back DeAngelo Hall.
Given the success of the Red Dress Benefit, KWIB members aim to host more similar events.
"We are hoping to make it an annual event," said Kristen Owen, a first-year MBA student and Vice President of Finance at KWIB. "Next year we'll definitely work on scale to make maintain the size for years to come."