Alumni
Alumni Get Together at Nationals Park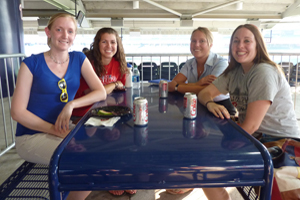 As the academic year becomes a memory and summer quite literally heats up, "Take Me Out to the Ball Game" comes to mind. A hot dog and cold drink on a warm evening at the ballpark is practically a right of passage in DC.
Heeding the call, the Kogod alumni community gathered at Nationals Park to watch the Nats take on the Phillies at 7:05 p.m. Tuesday, May 31. About 40 alumni, 2011 graduates, and local alumni board members came out to reconnect with each other and cheer on the home team.
Anna Wiinberg, BLC '11, came directly from her first day at her new job, having just graduated last month. She started at Mercuri Urval as a project coordinator; tax and benefit forms were peeking out of her purse when she arrived.
"It's nice to relax with my friends after a long day," Wiinberg said. "I like that Kogod hosts events like this that help to keep people in contact."
Attendees enjoyed dinner and caught up before the game in the family picnic area.
Ann Marie Sharratt, BSBA '99, of the Kogod Alumni Board, said she tries to attend as many alumni events as she can. She serves as executive director at the Women in Military Service for America Memorial Foundation, Inc.
Sharratt said enjoys spending time with fellow alums in any setting.
"People are here despite the heat," Sharrat said. "I think that speaks to the desire of our alums to stay active with each other and the community."
Chelsea Spiehs, BSBA '11, participated in Army ROTC program during her time at AU.
"It's fun to catch up with my friends and fellow graduates," Spiehs said. "I'm a Phillies fan—sorry Nats!"
Spiehs was commissioned the week after graduation and will report for training in August. She will serve as a lieutenant in medical services, stationed in Germany outside of Heidelberg.
Fellow Phillies fan, Laura Schofiled, BSBA '11, is looking for a marketing-related position in the travel/tourism industry. "I'm here to support my friends and Philadelphia," Schofield said.
In the process of transitioning to a full-time position, Caitlin Rosser, BSBA '11, is currently interning at the civil division of the Department of Justice.
"I'm not a huge baseball fan, but I couldn't pass up the chance to see the people I graduated with just a few weeks ago," Rosser said.
The Nats played a solid game, beating the Phillies 10-2. A win and good company made for a great evening.