Alumni
Kogod Alum Works to Mitigate Climate Change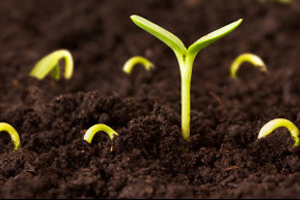 Daniel Goodrich, BSBA/BA '08, isn't afraid to get his hands dirty.
The Kogod alum finds sustainable solutions—and helps improve soil quality—at a start-up renewable energy company in California. The company, Interra Energy, converts organic material into a soil-enhancing carbon substance called biochar. The process also produces clean energy.
"It is quite possibly one of the simplest and most sustainable solutions to mitigating climate change," Goodrich said.
At Interra, Goodrich wears many hats. He is officially the Corporate Secretary (an officer of the company), a Director (on the Board), the Accounting Manager, and the Legal Counsel.
What is biochar?
Biochar is made through a thermochemical decomposition process that breaks down biomass, or organic material, like landscape trimmings, that would otherwise be dumped at a landfill. The gases and heat, byproducts of the oxygen-depleting process, called pyrolysis, are converted into renewable energy.
This renewable energy source fulfills Interra's electricity needs, and the remainder helps satisfy the California power utilities' need for renewable energy.
Biochar, the carbon-rich charcoal leftover, can be introduced into soil, permanently locking carbon in the ground—carbon that would eventually enter the atmosphere.
The process is "carbon-negative," meaning that, in effect, Interra is removing carbon from the carbon cycle. Proponents of biochar say it slows global warming, breaking the cycle of carbon dioxide's emission into the atmosphere and storing carbon in the soil instead, which significantly improves crop yields and soil fertility. The process is made possible by the Interra Energy Forge TM (patent pending), what Goodrich calls the "beast" that makes Interra unique. It produces more and better-quality biochar than similar technologies, he said.
Four industries benefit from Interra's production of bicohar, Goodrich explained. 
Waste management — diverting organic materials that would otherwise be sent to landfills
Clean energy — creating renewable energy that helps alleviate the need for petroleum-based power 
Agriculture — restoring arable land and improving crop yields by introducing biochar to the soil 
Climate change — mitigating the effects of climate change by sequestering carbon into soil
Music Man to Green Machine
Goodrich didn't always have a green thumb. He started out in New York making deals for music artists. It was law school at the University of San Diego that prompted the switch.
"I began to see how my past life, while exciting and full of industry perks, was not nearly as rewarding and impactful as changing the way we handle energy and interact with our environment," he said. "I got hooked quickly."
At USD, Goodrich met the president of Interra, Thomas Del Monte, who was developing the biochar and power production technology. Goodrich interned for the company and eventually gained a position in accounting and navigating Interra's regulatory hurdles.
"Timing is everything in life," Goodrich said. "As I finished this past semester it was time for Interra to take strides from start-up to operation, and he offered me a position with the company. I used what I learned at Kogod and through corporate law classes to convert Interra Energy, LLC into Interra Energy, Inc., developing bylaws, the shareholder, equity and employee agreements, the Board of Directors, the corporate officers, and all other legal necessities for a corporation."
Next year, Goodrich will graduate from law school. He hopes to roll right into the senior role at Interra that he has been cultivating and to continue to develop Interra into a world-class company.
Then?
"Catch a lot of the San Diego waves that I've missed while studying," Goodrich says.