Achievements
Professor  Helps Organize D.C. Commodity Markets Conference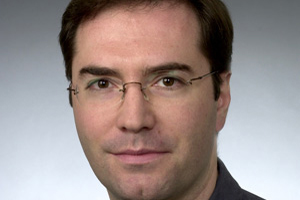 For two days this month, Professor Michel Robe's professional pursuits will coalesce even more than usual.
Bringing together his work as a tenured associate professor of Finance at Kogod and his role as a senior consultant to the U.S. Commodity Futures Trading Commission (CFTC), he is helping organize the first academic conference on commodity markets. It will be held at the CFTC's Headquarters August 25 and 26. 
A commodity is a raw material or agricultural product that can be bought and sold—such as oil. The markets for commodities have evolved dramatically in recent years, resulting in a strong resurgence of academic interest in commodities.
"Commodity markets are where supply meets demand and, hence, where price formation takes place," Robe said. "Understanding what drives commodity price levels and volatility, and their evolving linkages to other asset markets, is therefore very important."
According to Professor Robe, a number of top researchers are working on issues specific to commodity markets. At the same time, other leading researchers have started using data from commodity markets to test some general theories in finance and economics.
The conference serves to investigate a number of recent developments, in particular, the influx of financial institutions and the concomitant rise in commodity speculation, the unusually large movements in commodity prices, and the dramatic growth in algorithmic and high-frequency trading.
Nine papers will be presented and then discussed during three sessions on Thursday. On Friday, two panels of experts will discuss work in progress. 
Professor Robe's own work on the organization and evolution of derivatives markets—in particular his research on commodity speculation, possible limits to market efficiency, and the roles of different types of traders in commodity markets—explain why he is one of the seven academics on the conference's program committee.
"The upcoming conference showcases cutting edge academic work, but is open to the public," Robe said. "One of our goals is to generate greater awareness about the academic work being done with regards to commodity markets."
Bringing AU to the Policy World—and Vice Versa
Professor Robe teaches derivatives and international finance at Kogod. He visited the CFTC full-time as a senior economist in 2006, and again during the financial crisis of 2008-2009. He continues to spend one day per week at the CFTC to identify and manage independent research projects and to provide expert advice on related policy issues.
His experience at the CFTC informs and supports the research that he carries out in Kogod's Department of Finance and Real Estate—only the CFTC's staff and consultants have access to its vast repository of non-public data. Professor Robe's interactions with key derivatives market participants also enhance his teaching.
"I'm especially interested in the market consequences of information and risk-bearing differentials between market participants," Robe said.
In the coming academic year, he will work—among other plans—on a joint research project involving the CFTC and another U.S. government agency with the goal of identifying whether the activities of specific types of energy traders affect the spreads between the prices of different types of crude oil.
As commodity prices have risen in general, Professor Robe's research will be highly relevant across various business sectors.