Student Life
New Undergrads Network During Capital Connections Program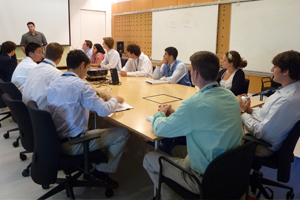 Fantastic. Awesome. Very informative.
These were the words students used to describe the two-day, first-ever Capital Connections program. An alternative to other new student programs during Welcome Weeks, Capital Connections is a pilot program created to introduce new students to the D.C. business community.
"I think it's a great way to kick start students' interest level prior to starting classes," Lauren Renner, Admissions Coordinator said. Renner spearheaded the program, drawing on local alumni to craft the agenda.
Students that participated in Capital Connections felt like the program was made for them.
"I loved everything we did," Colin Hoofnagle, BLC '15, said. "It was great to be able to go out and represent Kogod as the next generation."
"All the activities were right in line with what I want to learn and do," Thomas Hall said. "Not only were we getting to know D.C., but also about the career options we'll have in the future."
Organized around themes, the first day of the program was a "sports and entertainment" day. Students went to SiriusXM Satellite Radio and Ping Pong Dim Sum for lunch.
At SiriusXM, students learned about the company's business model, plans for growth, and internship opportunities. "Passion is the best catalyst to success," Manager, College Programs & HR Projects, Ross Herosian told the group.
Marketing and Sales Manager at Ping Pong, Myca Ferrer, BSBA '09, talked about the importance of networking and making connections. "This program is so ideal because it gets students engaged and involved with each other," he said. "They're getting to know each other and starting to form a community already."
After lunch, students had a few hours to explore downtown D.C. before heading to Nationals Park for a private tour, dinner, and to watch a game.
"We learned all about the business side of the game, the things unrelated to baseball that most people never think about," Matthew Lerner said.
The second day focused on finance and government. Site visits to The Federal Reserve Board and Freddie Mac allowed students to interact directly with individuals in positions they aspire to.
"I really liked the way the program was set up," Cecilia Nicolich, IBUS '13, said. "It provided a great overview and the small size of the group worked well."
At the closing dinner at Maggiano's, students chatted with faculty members, 1955 Club members, and recent alumni, sharing their experiences and getting advice about all things Kogod and D.C.
"This program was focused on what I'm coming to Kogod for," Max Marcucci said, an incoming freshman planning to major in marketing and international relations. "It was a perfect fit for me."
Check out the complete photo album on Kogod's Facebook page.
Capital Connections is one of many ways students can get involved at Kogod. Visit the Kogod Leadership and Applied Business (K-LAB) website to learn more about upcoming opportunities.