Student Life
Academic Welcome Ushers in First-Year Students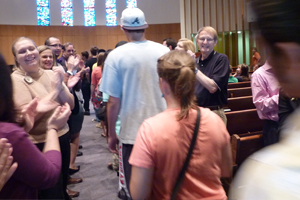 A procession of new undergraduate students—cheered on by peer mentors—streamed into the Kay Spiritual Life Center on August 26 greeted by smiles and clapping.
Faculty and staff celebrated the arrival of freshmen and transfers alike to Kogod at Academic Welcome, the culmination of Kogod's welcome weeks program.
The event brought together the entire incoming Kogod undergraduate body under one roof to begin a final afternoon of getting to know each other and getting to know the school before the start of the fall semester.
Dean Michael Ginzberg began the afternoon's festivities with a speech about the diversity of the class, citing the presence of 178 first-years and 49 transfers from more than 30 countries.
"I'm a freshman here, too," Ginzberg said. "Enjoy your excitement for your four years here. Welcome to the Kogod family," he stated before introducing the Undergraduate Business Association (UBA) President, Alexis Zayfert.
Zayfert spoke briefly about the work of the UBA, encouraging new students to become active members of the Kogod community and larger university community, before introducing the afternoon's guest speaker: alumnus Stephen Gaenzler, BSBA, '92, Principal of Five Bridges Advisors.
Gaenzler imparted some of the life lessons he learned as a Kogod student and in his 20 years as a business professional, using Dr. Seuss' Oh, the Places You'll Go! as an entertaining medium. After reading the book, he offered his final five suggestions to incoming students:
Diversify your academic and extracurricular experience

Control your behavior on social media outlets, such as Twitter and Facebook

Challenge yourself and be willing to fail

Find balance in your life

Actively pursue internship experiences.
Lawrence Ward, Associate Dean for Academic Programs, concluded the welcome ceremony by sharing his guidelines for making the most of one's time at the university. He also continued a personal tradition of displaying the Kogod Ledger, a symbolic gesture to motivate students to finish their time here and sign their name on graduation day.
After Academic Welcome ended, new students finished their day with Kogod Kickoff, participating in teambuilding activities and a mini case competition.
See the photo album from Academic Welcome on Kogod's Facebook page.
Academic Welcome is one of many ways students can get involved at Kogod. Visit the Kogod Leadership and Applied Business (K-LAB) website to learn more about upcoming opportunities.