Alumni
Alumna Heads to Vancouver for Accounting PhD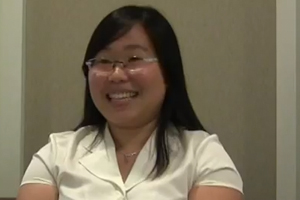 Two weeks ago, Yi Duo went on a unique type of blind date.
Duo, BSBA '10 and MSA '11, headed west to the University of British Columbia, one of Canada's premiere universities, to earn her PhD in Accounting.
The recent alumna has never been to the campus, just like she never visited AU before transferring here as an undergraduate student from one of southern China's top universities.
"Vancouver is a new start all over again," Duo said. "I won't know anyone. I only have my two suitcases and a few contacts, but it's exciting."
The aspiring professor plans to combine finance and accounting to study how different accounting rules on derivatives reporting impact financial users, corporations, and the country's economy.
"Basically it's like doing finance with the accounting background," Duo said. "People think that [the practice of] accounting is already matured, but there is still a lot of development."
After she completes her doctorate degree—in four or five years—she hopes to return to the Washington, D.C. area to teach.
The Path to Professorship
Duo's choice to earn her doctorate is pretty rare in the accounting world, where so few accounting students and CPAs earn a PhD.
"Accountants are always playing catch-up" with finance experts who are much more likely to earn PhDs and more flexible in developing investment portfolios, she said.
The divide between accounting and finance can exist even within a company, where the two departments often know little about each other and what the other is working on, she said.
Duo herself flits between the two worlds easily, after taking a hefty number of finance classes while earning her MS in Accounting degree and concentrating in both areas for her undergraduate BSBA degree.
She hopes her research will help bridge the gap between the two fields that seem so similar yet separate.
From China to AU
Duo began college at Sun Yat-sen University northwest of Hong Kong, but soon transferred abroad to preserve the academic integrity of her experience.
Case in point: in a collegiate class in China, one of Duo's classmates turned in a 15-page paper copied and pasted from the Internet. Frustrated that her classmate earned a near-perfect grade for a paper obviously beyond the knowledge and skill of a first-year student, Duo looked to U.S. colleges.
"AU offered a more international experience and smaller class sizes," said Duo, who had never seen snow until she came to the District.
Now, Duo heads farther north to Vancouver. While she worries a bit about the years that will be spent slaving over her dissertation, she knows the path to professorship is the one she wants to take.
She wasn't always this sure of her path. Initially, Duo intended to take the CPA exam and try for a full-time position at a big firm. But after spending her time at Kogod as a supplemental instructor and research assistant, she discovered she loved teaching.
"I realized this is the life I want," she said. "Getting my PhD is the way to go."
Yi Duo, BSBA '10, MSA '11 from Kogod School on Vimeo.