Professional News
New Accounting Professor Worked on Madoff Case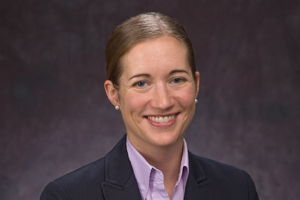 Casey Evans is used to spending her days pouring over documents and interviewing relevant witnesses to discover the origins of illegal actions.
A forensic accountant and a new executive-in-residence at Kogod, Evans, BA '00, MSA '01, investigates financial crimes. Most recently she worked at FTI Consulting as a senior director investigating the Bernie Madoff case.
"It's like putting together pieces of a puzzle," she said. "We were digging through every thing we could trying to put it all together."
Evans spent six months operating out of Madoff's offices in New York to gather evidence on behalf of the financial company's trustee.
The end goal is to return money to investors by proving—through a litigation process—that fraud was committed. In this case, everything was fabricated, making that goal a particularly big challenge, Evans said.
"The Madoff case is definitely the most interesting I've been on," she said. "It was such a big deal and such a large fraud, affecting so many people."
Forensic accounting is a growing niche within the field, Evans said. From large firms with a dedicated litigation support/fraud examination division to small boutique firms that specialize in the practice, there is no shortage of jobs.
Breaking In
Evans was always interested in pursuing a career related to financial crimes.
She started at AU as a justice, law, and society major. The switch to accounting came later, in her sophomore year, after she took an elective accounting class and loved it.
"I was probably the only non-accounting major to get so excited about an accounting elective," she said.
Her accounting background helps her to recognize when financial statements have been manipulated, a skill that is critical in her field.
After completing her master's, Evans did audit work at two firms. She then moved into forensic accounting—a common path for forensic investigators.
Initially, she focused on the litigation support, serving as an expert witness—meaning she used her expertise to give opinions during court cases involving financial crimes. She later transitioned to fraud examination.
She has been an adjunct professor at Kogod for the past four years, so brings familiarity with the classroom setting to her new role.
Evans is passionate about teaching and looks forward to being a full-time professor. She still serves as a consultant on an as-needed basis.
"I really enjoy teaching and working with the students," she said. "I like to see them learn. When the light bulb turns on—I find it very rewarding."