Professional News
New Staff in the KCCD Help Students Maximize Opportunity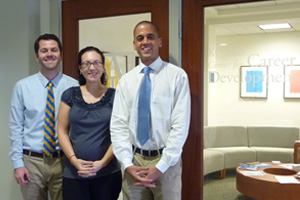 The Kogod Center for Career Development's (KCCD) new staffers, John O'Neill, Andrea Carpenter, and Wim Taylor, work hard everyday to counsel, guide, and encourage Kogod students.
But, the new career management advisors—Carpenter and O'Neill—and associate director of employer relations—Taylor—do far more than help students manage their careers or connect them to employers; they help students find their path for the future, and push them to follow it.
O'Neill was a wakeboarding and water skiing instructor on the West Coast during college who began his academic interaction with students working as a manager at Kaplan. He decided to return to school himself: a graduate program in Education and Human Development with a specialization in Higher Education Administration at George Washington University. "I ultimately wanted to work with older students whom I could challenge more," he said.
At Kogod, he hopes to teach students how to navigate their careers so that when they graduate from AU, they will be prepared for the challenges that any young graduate is sure to face.
Carpenter has always been interested in "how people find the careers they love," and has an interest in business. She found Kogod to be the perfect place to combine the two pursuits. Her goal is to serve as an immediate resource for students, while also helping them to cultivate lifelong career development strategies.
"It's always a challenge to help students understand how to balance embracing career exploration with finding a focus," Carpenter said.
Taylor's interest in working with students began when he was an intern at the University of Virginia, where he interacted with student athletes to help them consider a "plan B" to a professional athletic career.
"My desire to address the issue of students' leveraging their collegiate experience to become successful young professionals led me to several roles in academic advising and now here to the KCCD," he said.
Taylor sees his new position as a way to bridge the gap between employers and students. "Using my knowledge of students gained from years of academic advising, my goal is to help employers understand the strengths of our students to meet their hiring needs."
Taylor is rejoining Kogod after being part of the SIS academic advising team. He was the Associate Director for Undergraduate programs at Kogod from 2002 to 2005.
The Kogod Center for Career Development is open from 9:00 a.m. to 5:00 p.m. Monday through Friday with special hours by appointment.