On Campus
A Tasty Look at a Hot Business Trend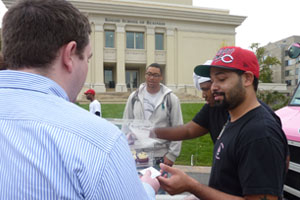 Food trucks are becoming more common in Washington, D.C. But how many of those visits double as an opportunity for students to learn about business trends - while munching on a cupcake?
As a new surprise program offered by Kogod's K-LAB, the kick-off event featured a covert visit from D.C.'s first cupcake truck, Curbside Cupcakes. 
The popular business is owned and operated by Sam and Kristi Whitfield, who both transitioned from other careers to their startup on wheels.
Sam, formerly an attorney, came up with the idea for Curbside Cupcakes while at work. One day, coworkers in his office wanted cupcakes, but nobody wanted to leave the office to get them. A light bulb went off. That night, he approached Kristi to get her take on launching a cupcake truck. 
They launched their first "mobile cupcakery" in November 2009. Kristi now serves as executive director of the D.C. Food Truck Association.

The couple now has three trucks that roam the Washington, D.C. area, selling a selection of their 30-plus cupcake flavors, including Red Velvet, PB&J, and Snickerdoodle. The duo has amassed an impressive following on Twitter and Facebook, which they use to indicate their trucks' locations each day.
Surprise Visit
The appearance of "Pinky 3" on campus Tuesday was only revealed to students that morning. On the menu was a promise of free cupcakes to the first 100 students to ask a business-related question of the owner.
Though the line formed quickly, students were willing to wait for an opportunity to ask a question of Sam and his team.
"I plan on asking him how they keep up with demand while on the road," said Gian Alvarez, BSBA '15. "Then I'll ask for a red velvet cupcake."
Student Evan McDuffie asked Sam about start-up capital for new entrepreneurs, evoking a surprise answer from Whitfield: the pair launched the business without a loan, using their own cash and credit.
While passing out the cupcakes, employee David Geris addressed the ever-popular question of supply and demand in the food truck business. "Demand is always unknown. It's up and down every day. We just take it in stride," he explained.
"This is a great way to get us talking about business outside the classroom," said student Erica Ruzic after her brief chat with Sam and the curbside crew. 
"It's great to see the K-LAB encouraging discussion and conversation about business in a fun way," added student Seth Borko.