Student Life
No "Crossroads" Here: Utah Native Chooses Kogod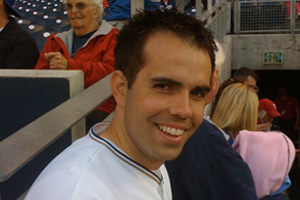 Logan Millard, MBA '13, scored some standout opportunities as a resident of Salt Lake City, Utah. He grew up near the EnergySolutions Arena, home of the Utah Jazz basketball team. He worked for Real Salt Lake, the area's Major League Soccer Team. And he was a sideline producer for Fox Soccer Channel.
Despite his love for Salt Lake, Millard still made the decision to turn East from the Crossroads of the West to enroll in Kogod's MBA program in Washington, D.C. 
"My wife and I decided grad school would be a wonderful opportunity to live in a new place and prepare ourselves for a better future," Logan said.
"Ultimately we chose Kogod because of the strong international presence that the school has. The interview process also gave us a chance to get to know people who work at the school," he added. This interaction with the Kogod community sealed the deal: "We felt so impressed with everything...the professionalism and excitement from them was exciting and encouraging."
Though he admits to missing his hometown, he's found much to love about his new city of residence. "D.C. offers the chance to network and meet so many new people. I love history, so being here also feeds my addiction—I'm learning about American history and the freedoms we enjoy."
Leisure time is a luxury in graduate school, but Logan is content to be in class.
"It is refreshing to be in a classroom setting where so many students are focused on learning. We have a good group where everyone is genuinely interested in each other's success," he said. "The energy is so great."
When he completes his MBA, he plans on starting his own business with the opportunities Kogod has provided him.
"We both love being here and feel like we made the absolute best decision. I am proud my MBA will be from Kogod."