Student Life
Going the Distance: One Student's Trip from LA to D.C.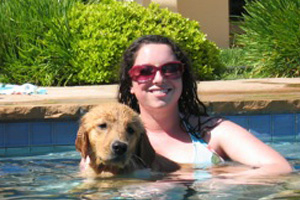 Jen Gassner was looking for a new adventure in a new city, but she found something more than that: an intimate program in the nation's bustling capital.
A new MBA student, Gassner trekked all the way from the suburbs of Los Angeles to start her full-time graduate career at Kogod this September.
"I chose Kogod because I fell in love when I came to visit," she said. "Everyone I met was so welcoming and personable ... the whole Kogod atmosphere was friendly. I knew I wouldn't get that type of experience in a bigger program where it was easy to blend in and be anonymous."
Even just one month into her program, Gassner is thrilled that her professors challenge her to think critically and motivate her to give 100 percent effort. "They're constructive, and interested in helping you instead of just grading you," Gassner said.
Though she's new to the city, she's already finding more to love about her new home.
"D.C. is vibrant and exciting ... lots of movement, lots of opportunities to get involved," she said. And she plans on taking advantage of all the opportunities she can get her hands on, starting with establishing a better relationship with her colleagues and developing a career path for her time after Kogod.
The fast pace has made her transition from the West Coast to the East Coast easier than she expected. "I felt at home so quickly. They just throw you into everything ... so as long as you make the effort to engage, you don't have time to feel homesick," she added.
Even 3,000 miles from Los Angeles, she has no regrets over making the long haul out to AU.
"This process of being here and getting this personalized attention, it's helping me decide what I want to do. I feel confident they'll help me figure it out," said Gassner.
More importantly, she has advice those considering a similar journey: "You have to be honest with yourself about what you want. Do you want a small school atmosphere in a big city? If you do, this is where you need to be."