Achievements
Advisor Granted Rare Honor from France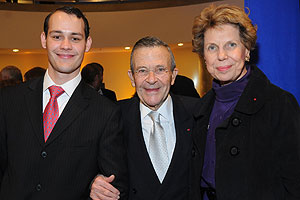 A member of Kogod's Advisory Council has been awarded a prestigious honor by the French government under President Nicholas Sarkozy. Jacqueline Grapin received the title commandeur de L'Ordre National de Mérite, which is granted to both French and foreign nationals for achievements and service within France and abroad.
For Grapin, who has served on the Kogod Advisory Council since 2002, it is a humbling recognition of her years advancing the relationship between the U.S. and European countries.
In addition to a distinguished career in economic journalism, Grapin founded the European Institute here in Washington, D.C. The Institute focuses on trans-Atlantic affairs and public policy. 
Grapin now serves as co-chair of the board for the organization. Her work has focused on improving communication and partnerships between the U.S. and numerous European nations; it is this incredible career that helped her receive the honor.
"I have so much respect for those who've won before me. So few win it," Grapin remarked. "It is very rare when women have been awarded this, and women are such a large part of today's activities. It is humbling."
Though many recipients choose to be acknowledged at a ceremony in France, Grapin has decided to receive the award here in the U.S. from the French Ambassador, François Delattre, in part because of her 27 years living in this country. "I want to be thankful to the U.S., and the many people here who've helped me. I've made such good friends here," she said.
Grapin's family is very much intermingled with the greater Kogod community. In addition to serving on the Kogod Advisory Council, Grapin and her husband, Michel Le Goc, are the parents of two alums. Claire Le Goc received her MBA in 2006 from Kogod, as well as a JD in 2004 from the Washington College of Law; Julien Le Goc received his BSBA from Kogod in 2000 and is currently pursuing an MS in Finance here as well.