International
Master's Student Discovers Interest in International Taxation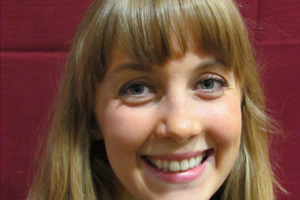 Emily Mordhorst discovered her professional niche thanks to a transcontinental move.
Now an MS in Taxation student, she spent two summers taking classes so she could finish her undergraduate degree a year early and begin her master's degree at Kogod.
Her initial stemmed from the fact that she was going to be an international student and she wanted to know how she would be affected by U.S. tax while living in the D.C. metro area.
"The world is so interconnected," she said. "I believe this area of tax will continue to grow in the future as more companies decide to expand internationally."
Mordhorst is a Massey Fellowship recipient—an award given to exemplary incoming Canadian students studying full-time. She earned a bachelor's degree in management and organizational studies with a specialization in finance from the University of Western Ontario in May 2011. She also moved to D.C. and started at Kogod that same month.
"The move to D.C. was hectic, but it was totally worth it," she said. "I was able to continue doing what I love by starting classes—and I can take my CPA exams next summer."
Location, Location, Location
When researching graduate school, Mordhorst was impressed by the fact that so many professors at Kogod are also working professionals. The school's reputation and location were huge factors in her final decision as well.
"I saw it as a huge advantage to learn cutting edge material and [find out] what actually goes on everyday at a firm," she said. "I'm so glad I chose Kogod, because the professors are really amazing."
"After taking the international tax class, I found that I really enjoyed what I was learning and decided it was something I wanted to pursue professionally," she said. "I really feel like I've found my niche."
Mordhorst believes that having a master's degree in the field will afford her a wider range of opportunities when she graduates in May 2012. She would like to work in the tax department of a public accounting firm, and hopes that a large firm will allow her to room to grow professionally.