Arts
Instructor Brings Notable Career in Music, Digital Expertise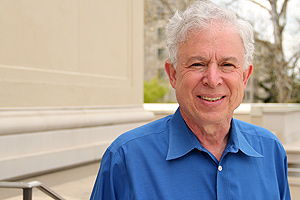 August 15, 1965: Picture Shea Stadium packed with 55,000 screaming fans clamoring for John, Paul, Ringo and George; the best-selling band in history at the height of their popularity. 
John Simson doesn't need to imagine it; he was there, experiencing his first concert.
It was a milestone in the Kogod instructor's lifelong devotion to music, and it's an anecdote he uses to bond with students in his fall course, Economics of the Music Industry.
Simson has spent many years fighting to preserve the value of music on the industry's front lines. He recently stepped down after a decade as head of SoundExchange, where he organized the practice of collecting and distributing royalties to artists when their music is played via Internet, satellite and cable music services. 
The not-for-profit was founded after the passage of the Digital Performance Right in Sound Recordings Act in 1995 and the Digital Millennium Copyright Act of 1998, and was designated by the Library of Congress as the sole organization authorized to collect royalties.
All You Need is Love
The onetime singer-songwriter "always had a political side" growing up in New York, and was very involved with the protest movements of the 1960s at Cornell University. 
He left Cornell in 1970 to sign a record deal and was sent to London to record his debut album. (One of the highlights: he opened one date of Jethro Tull's 1971 Aqualung Tour in Albany, NY.) But Simson eventually decided to return to law school when things weren't taking off as fast as he'd hoped.
At that time, copyright law was barely included in the curriculum. This was long before famous cases like SONY Betamax, Napster and Grokster brought copyright issues front and center. (Simson was subpoened to testify in the Napster lawsuit.) When Indiana University was sued by Metallica, he debated Napter's Sean Parker at IU, which got him death threats and hate mail. 
His legal career exposed him to many genres of music, from go-go bands like Chuck Brown & The Soul Searchers, to bluegrass, to urban groups like Salt N Pepa and Mya, the legendary Harry Belafonte, and others. 
His career led into artist management where he partnered with Studio One Artists. The ten year partnership provided the career direction for local artist Mary Chapin Carpenter, who won five Grammys and sold 10 million CDs during the decade Simson and his partner represented her.
Capital of Music
Simson has enjoyed a successful music career in Washington, D.C.: he helped found the local chapter of the Grammy organization in 1997, became a member of the National Recording Preservation Board created by the Library of Congress, and when the Internet threatened the commercial value of music, he stepped into an advocacy role to protect the industry he loves. He led SoundExchange from annual revenues of just $3 million in 2001 to over $260 million last year.
The area provides ample venues to hear good music; the 9:30 Club always delivers, Wolf Trap "is a treat," and the Birchmere is a favorite—not to mention the Rams Head Tavern in Annapolis, the Sixth and I Synagogue, The Black Cat, Blues Alley and so many more venues along U Street.
Simson received an Emmy nomination for his music supervision of the 2001 PBS special, "American Roots Music" and the 10th Anniversary Outstanding Volunteer Attorney award from the Washington Area Lawyers for the Arts.
From Musician to Educator

In addition to his teaching responsibilities, he continues to represent young artists. 
"After 11 years at SoundExchange, I thought I was done managing bands. I'd been referring to myself as a 'recovering manager' attending 12 step programs to keep me from managing again. 
Then I heard this new band out of Mount Vernon High School in Alexandria [Virginia] and they're really, really good. I don't think the people who [turned me on to them] had any idea how good this band really was," he said.
And the instructor, who's also taught for the Washington College of Law, has been impressed with the seriousness of his undergraduate students, many of whom are in the BS in Business and Music degree program.
"They ask smart, probing questions," he said. "One's been on the Billboard charts; one was on 'America's Got Talent'… they're all passionate about music and willing to make the commitment to putting in the work. That's what it takes to succeed in this business."
Simson's message to his students is a mixture of realism and optimism. 
"There's this notion that the music industry [as a whole] is falling apart, and that all artists are millionaires, as MTV Cribs would suggest," he said. "There is definitely an overstatement about the decadent lifestyles of artists; but the reality is, most artists are middle class. Most are struggling to make a living from their creativity and hard work.
As business people, it is our job to provide as much guidance and expertise as we can to assist them in their endeavors."

Simson will teach KSB-396, Music Publishing and Copyright and HNRS-302, The Music Industry Under Siege: The Economic and Technological Battles of the Digital Era, in Spring 2012.