Achievements
Kogod Beats the Competition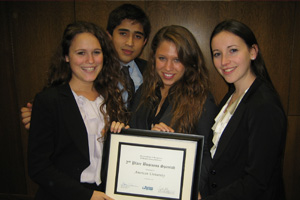 The past seven days have been challenging for two groups of Kogod undergraduate students, but the end result was well worth it. Each placed at major case competitions.
Samantha Dina, KSB/BLC '12, Emily Moore, KSB/BLC '12, Rachel Delevie-Orey SIS/IS '12, and David Gonzalez, KSB/BSBA '13, placed second at the BYU Business Language Case Competition held in Salt Lake City on Nov. 11.
A few days later, Austin Yau, KSB/BSBA '13, Colin Musselman, KSB/BSBA '12, Jeff Eyler, KSB/BSBA '13, and Brian Furao, KSB/BSBA '14, won first place at Deloitte Consulting's Battle of the Beltway Case Competition on Nov. 15.
This is AU's second consecutive win at the Battle of the Beltway. Two Kogod students were on last year's team.
"It felt good to see AU at the top when paired with such other high-caliber universities," said Musselman. 
Seven other East Coast universities participated in the competition; the case asked the students to develop a financial forecasting method for the Navy Working Capital Fund at the Department of Defense, which currently forecasts and consolidates its budgets using a manual process.
Musselman's advice for future teams: "Practice your presentation, practice some more, and then practice more. Also don't be intimidated by presenting in front of such distinguished professionals, they were in your position at one time."
Yau felt that time management was his team's great strength. "We created a strict schedule with an agenda that we followed to the very end. Our schedule also allocated two full days for just brainstorming; this allowed to us to really look at the case from many different perspectives."
Crossroads of the West
Cross-country travel was not the only additional hurdle for Dina, Moore, Delevie-Orey, and Gonzalez; the BYU case competition was conducted entirely in Spanish. It was the second time a Kogod team participated and the first time that Kogod placed in the competition. The case was based on determining the viability of a product that had already experienced two failures in the past: a water filtration unit that filtered wastewater for irrigation purposes.
"After studying abroad in Spain last spring and taking my business classes in Spanish, I felt the case competition would be the best way to effectively showcase all my skills," Dina said.
"This experience legitimized the value of the Business, Language, and Culture degree for me and definitely helped build my self-confidence in my case analysis and Spanish abilities."
The ability to use Spanish during the case was an excellent stepping-stone between the academic world and the professional world for Moore.
"I do intend to rely on Spanish as a valuable asset throughout the course my career, and this was an excellent way to prove to myself, and to future employers, that I have the capability to do so," said Moore.