Student Life
Kogod Students Talk Entrepreneurship at the White House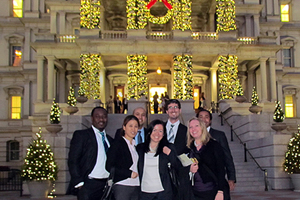 There are few places in D.C. harder to get into than the White House. But a lucky group of 30 students received an invitation to attend the White House's "I Am an Entrepreneur" event.
The event was held November 28 in honor of National Entrepreneurship Month, and to highlight the important role younger generations can play in developing entrepreneurial enterprises in the U.S. It featured an opening address by Ronnie Cho, Associate Director of the White House Office of Public Engagement, and further introductions by the founder of the Young Entrepreneur Council (YEC), Scott Gerber.
The event, co-sponsored by YEC, featured a panel of several young, accomplished entrepreneurs, including the co-founder of Reddit, the founder of IdeaPaint, the CEO of Buzz Marketing Group, and MTV's Sway Calloway, a reporter and executive producer of MTV News. Students were also invited to attend a networking reception after the event, hosted at the nearby W Hotel.
Sharjil Hasan, an adjunct associate professor in the department of information technology liked hearing the different perspectives, stories, and advice from real entrepreneurs. "I was most impressed by the level of engagement by YEC and the White House to create opportunities for the new entrepreneurs to help create jobs in America," he said.