On Campus
Learning From Leaders: High Profile Speakers Encourage Sustainable Business Practices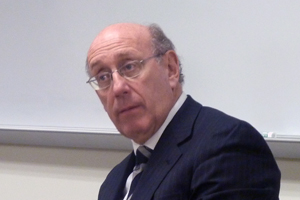 Businesses can—and should—do more to mitigate risk and shield the public and environment from the impacts of their decisions.
This was the overarching message delivered to Dan Jacobs' classes by three prominent leaders in the areas of financial oversight, compensation practices, and sustainability. Jacobs serves as director of the MS in Sustainability Management program and an executive-in-residence.
Eliot Spitzer, former New York State governor; Kenneth Feinberg, the Obama administration's Special Master for Compensation; and Tetsuya O'Hara, Director of Advanced Research and Development at Patagonia—each innovators in their respective fields—spoke about their work to undergraduate and graduate students.
Sheriff of Wall Street
Formerly governor of New York and New York State attorney general, Spitzer has debated the benefits of government regulation for the better part of his career.
He believes "market failure"—a concept within economic theory wherein the allocation of goods and services by a free market is not efficient—necessitates government regulation.
"The pressure of the marketplace can take companies to a bad place," Spitzer told the students. Lax regulation can also result in serious consequences. He cited the Securities and Exchange Commission's actions preceding the recent economic crisis as an example: "They were simply not doing what they were supposed to be doing."
Spitzer hopes that Kogod students will someday be able to help answer the question: "What is the proper role of government in the marketplace?"
Corporate Accountability
Regulation of compensation practices is another hotly debated topic.
Charged with dispersing settlements from the Gulf Coast Claims Facility—a $20 billion fund set up by BP to compensate victims of the Gulf of Mexico oil spill—Feinberg is one of few key practitioners who oversees settlement payouts in the wake of massive disasters.
"The BP fund was the right thing to do," Feinberg told the class. "People receive retribution for the damages they sustained without having to face years of litigation."
Feinberg's biggest challenge associated with the program is determining the extent of the damage; BP is still working with the EPA to investigate the full environmental impact of the spill.
Since July 2010, over one million claims have been filed with the fund. Over $6 billion has been paid out to 250,000 people and businesses.
Without clear precedents to follow, "we will have to be careful with programs like this one," Feinberg said. "We don't want to single out certain events for special treatment and create a sense of elitism."
Influence by Example
O'Hara is also focused on a marine environment, but in a completely different sphere. He created a best-selling wetsuit for California-based Patagonia. O'Hara has been leading innovation for eight years at the outdoor apparel and gear designer best known for its commitment to environmentalism and corporate responsibility.
Along with the concepts of simplicity and functionality, the company's mission statement is O'Hara's guide: Build the best product, cause no unnecessary harm, use business to inspire and implement solutions to the environmental crisis.
"Our product lines travel a lot," O'Hara said. "We have to find ways to be sustainable while still maintaining the level of quality our customers expect."
While some might buck at having to work within those limitations, O'Hara believes constraints result in creativity.
He started in sales and marketing in Osaka, Japan, moved to the U.S. to work in aerospace research and development, and after meeting Yvon Chouinard, the founder and owner of Patagonia, in 2003, material sourcing and development.