Achievements
Graduate Accounting Student Looks Forward to Early Finish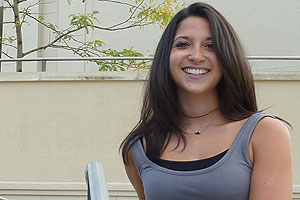 Amy Lessans, MSA '11, will have a very happy holiday season this year. The Rockville, Maryland, native is winding down her final semester at Kogod and preparing for an early graduation. In 2012, she will start her career as an auditor for Deloitte in Atlanta.
Completing a BS in psychology and communications, Lessans returned to the D.C. area to work in sales in Arlington, Virginia. Though successful, she came to the conclusion that a career in accounting might be better suited to her. "I wanted something that was completely the opposite [of sales], something that was in my control," Lessans said of her decision.
While searching for programs, she was encouraged to consider AU by her mother, a two-time American University alumna. But it was ultimately Kogod's openness to students of different backgrounds that drew her in.
"[Admissions] talked about how the program was very conducive to students with no background in business, and that there were a number of students like me coming in," Lessans explained. "Given that fact, I felt this was the best program for me."
After selecting the MS in Accounting program, Amy started slow as a part-time student while she continued to work. Though it was difficult at first, she found herself adjusting well to life at the school.
"I came into the program thinking it was going to be like my experience at the University of Michigan—classes were so big and it was hard to have close relationships with professors," Lessans said. "My first class was big, but after that, it became very intimate."
In addition to stepping up her pace, Lessans became an educational assistant to Executive-in-Residence Emily Lindsay, and a graduate student ambassador. The Kogod Center for Career Development gave her tips for her job search in Atlanta, prompted by her fiancee's relocation there.
"I think through the course of the program, I've gradually learned how tight-knit the community is here and how accessible the professors are, which is one of the things I love the most," she said. "It really has been great."