Athletics
Student Athlete Earned Top Patriot League Honor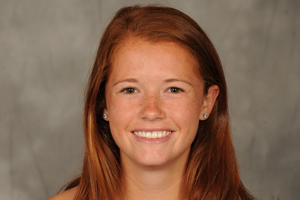 Tatum Dyer, BSBA '12, is making a name for herself on and off the field.
The field hockey player's most recent achievement is Patriot League Defensive Player of the Year. She won by unanimous selection of the coaches that comprise the six-team Patriot League.
The honor caps Dyer's exceptional season, which included four Patriot League Defensive Player of the Week awards and the top slot in the league for scoring margin and goals against average. Dyer was a key force, keeping the Eagle's allowed goals per game among the lowest in the league.
All of this is par for the course for Dyer, whose hard work has allowed her to succeed in both athletics and academics.
"Being a student and a member of the field hockey team has been tough to balance, but also the best experience of my life so far," Dyer said. "As student athletes, especially Kogod students, we have a lot of support."
Despite sometimes having to miss class for games, Dyer found that extra effort and focus on the details went a long way.
"I feel really lucky to have incredible teammates, professors, and coaches that are working for the same thing: the team's success."
Dyer is one of only nine players in Patriot League history to finish their collegiate athletic career with four All-Patriot League selections. She was also granted the honor of being named to the Patriot's First-Team All-League, where two other AU students will join her.
In the spring she will take a full course load and intern at a local accounting firm, Berlin Ramos in Rockville, Maryland.
After graduation, Dyer's plans aren't set in stone.
"As of right now, I'm hoping to play competitive field hockey abroad. I'm not sure where yet, but I'm really interested in Italy and Spain. I've had such an incredible experience playing field hockey at AU that it feels really sad for it to be over."