Business
How Do We Make Tax Compliance Easier for Small Businesses?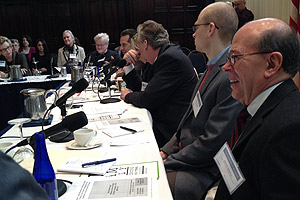 About 100 tax professionals, academics, and government officials gathered at the National Press Club on Friday for an exhaustive discussion of the tax challenges that small business owners face.
Exhaustive was the word du jour.
"Today, you've got to be a little out of your mind to start a business," said George Assimakopolous, MBA '95 and founder of EyeTraffic Media, a DC-based online marketing firm. "Along the way, you face significant challenges that almost put you out of business, before you even become a business."
Assimakopolous represented the small business community on the panel, which also included Martin Sullivan, contributing editor with Tax Analysts; Don Williamson, professor and executive director of the Kogod Tax Center; and John Buckley, professor at Georgetown University Law Center. The event was co-hosted by Tax Analysts and the Kogod Tax Center at American University.
The group's consensus on taxation and small business: The status quo is economically unsustainable.
Research indicates that small businesses account for roughly half of the "tax gap" in the U.S., either due to tax evasion or, perhaps more likely, confusion about the convoluted set of laws.
Williamson agreed that small business owners and entrepreneurs face an uphill battle. "The Kogod Tax Center was created specifically to address the problems discussed here today for small businesses," he said.
"[Tax preparation] is just overwhelming for the owners. It is viewed as a necessary evil, and it doesn't lead to productive behavior. It leads to disrespect of the system."
The burden of compliance dominated the two-hour conversation—Assimakopolous shared that at year-end, he spends about three weeks and thousands of dollars to complete EyeTraffic's taxes—though remedies and red herrings were addressed, including the impact of extended tax cuts for wealthy Americans, how taxes affect job creation, and the monumental challenges of tax code reform.
One possible conclusion came from David Kautter, managing director of the Kogod Tax Center. "We have to accept that there is simply a trade off between the complexity of compliance versus precision," he said.
Simplicity—one facet of the tax code debate that's made the rounds on presidential debate stages this election season.
Attendees at the event hailed from Congress and the Senate, the GAO, IRS, Deloitte, Ernst & Young, AARP and the Commerce Department, among others.