On Campus
20th Annual Kogod Case Competition Tackles Energy Business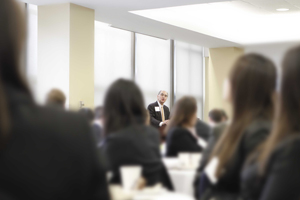 One minute before midnight on Tuesday, February 7, marked the official start to the 20th annual Kogod Case Competition. The case went "live" via Blackboard, giving 29 undergraduate and 12 graduate student teams until 8:45 a.m. on Saturday to craft a recommendation-based business plan for OPOWER, an energy-efficiency and Smart Grid software company. 
The morning included three rounds of simultaneous presentations, lasting ten minutes each with an additional ten minutes for question and answer, where 175 students presented their hard work to 55 judges. During the event's luncheon, Dean Michael J. Ginzberg said the case competition is "preparing tomorrow's business leaders" to focus on an issue very pertinent today: sustainability. 
He also emphasized to students that the judges, a mix of both alumni and local professionals, "are all working in places you might want to work, so take advantage of this and network!"
The event was orchestrated by the K-LAB, Kogod's student programming and activities team.

Judges' Feedback
Pamela Campagna, MBA '84, and president of BLUE SAGE Consulting Inc., a business and management consulting firm based out of Massachusetts is an experienced judge. She explained what she looks for in a winning team: "a sense of collaboration amongst team members" as well as "the fact that they've worked together in analysis to really identify the business issues and to come up with some creative ways to solve the problems."
Campagna makes the trip from Boston each year because the competitors "are just getting better and better and the quality of student here is thrilling to watch," she said. "That's why I come back."
Peggy Brooks Smith, CAS/BA '52, who believed her original path was music until "falling in love with business" was impressed with Kogod students. "We couldn't throw a question at them that they couldn't answer; they were so articulate and their presence was wonderful."
Student Perspective
Ivory Harris, MBA '13, a graduate student specializing in consulting, had previously competed in case competitions at the undergraduate level. His group's strategic focus was collaboration, "throwing everything on the table and forming an over-arching umbrella, to then narrow things down."
Despite the time constraint—which for Harris' group included a lot of late nights and a lot of coffee—it was a good experience at the end of the day. 
"I got to meet a lot of professionals and see what they go through on a day-to-day basis, so the experience was definitely welcome and we were willing to sacrifice some sleep for it," he said.
Bryan Schapperle, BSBA '13, and Kayden Horwitz, BSBA '13, are two Kogod undergraduates who have created their own start-up companies. "I would be such a big fan of having more of these case competitions," said Schapperle. "But I know it's a monumental effort to put on."

The Finals
The final round began at 12:45 p.m. Three undergraduate and three graduate teams competed for the day's top honors.
The winning graduate teams included: 
First Place ($250 each) – Team Impact and Innovation – Dave Bidwell, Ashley Locke, Andrew Petryszak, Matt Shannon 
Second Place ($150 each) – Team One – Rui Han, William Liu, Jonathan Woolridge 
Third Place ($100 each) – LeeRoy Jenkins Consulting – Michael Aguenza, Jenna Hackett, Chris Hsu, Steve Kelley, Rica Rosario
The winning undergraduate teams included:  
First Place ($250 each) – Panoptic Consulting – Ruth Bazie, Seth Borko, Amy Chu, Omar Eltorai, Dhruv Sarin 
Second Place ($150 each) – Fresh Perspective – Maeghan Crociata, Emma Zaballos, Jessica Halvorson, Liang Wu 
Third Place ($100 each) – Omega Consulting – Deepika Chandiramani, Meagan Green, Dale Nixon, Seta Paramdeo, Arthur Schweitzer
First Year Focus – Laura Iaffaldano, Nia McCarthy, Spencer Swan – received the Slivinski Award for the highest scoring freshmen or sophomore team outside of the finalists and earned $75 each.
Advice for the Future
Harris' advice for future competitors: plan ahead and manage your time accordingly. "There is going to be a lot of time devoted to the case competition and you want to be able to put your best foot forward."
Campagna's suggestion was to simply take action. "Be involved! Do it and do it year after year; challenge yourself to really do it better."
"At the end of the day, it's about the experience, not everybody can win. As long as you felt like you got something out of it, that's the important thing and I felt like my team felt that way," said Harris.